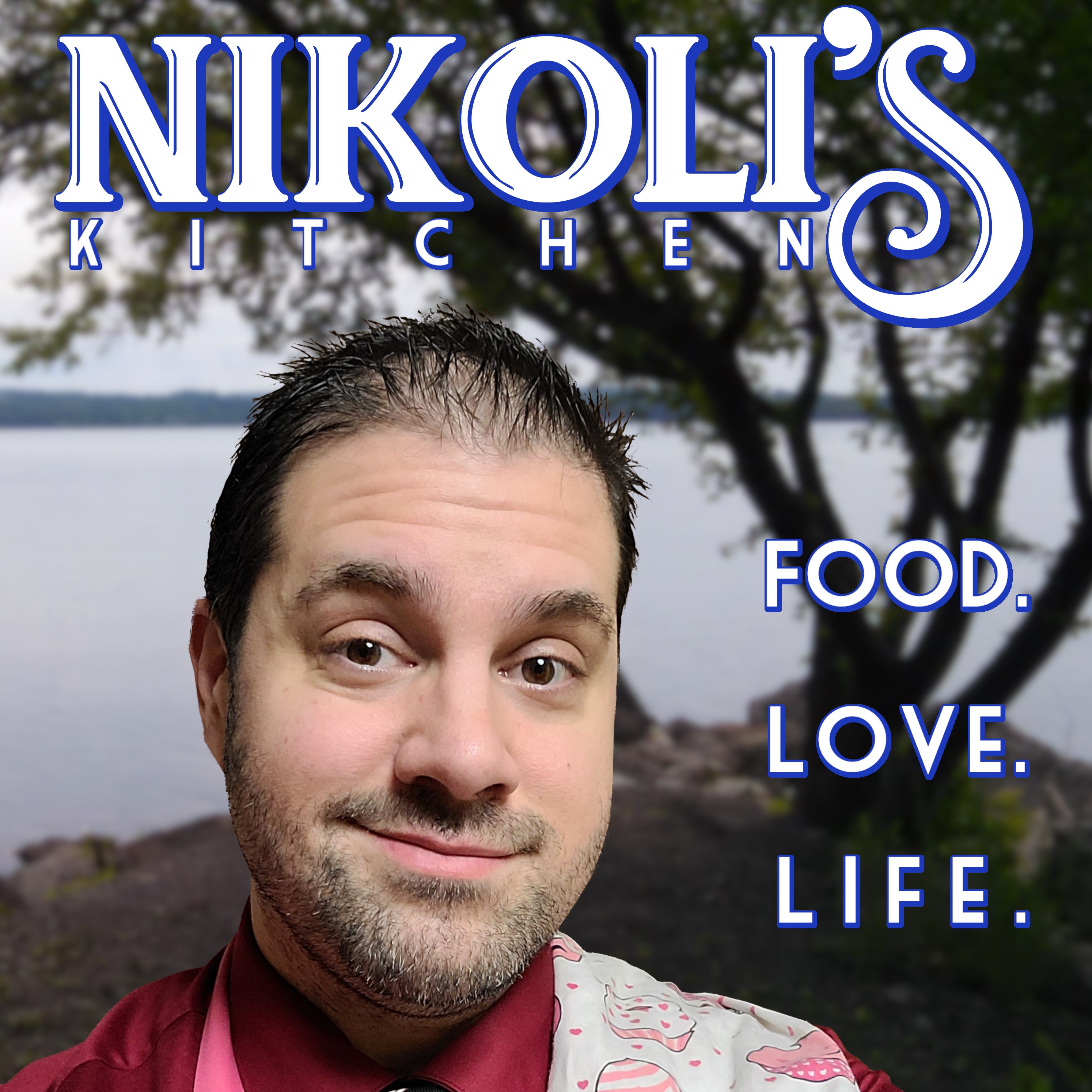 Welcome everyone! This show is all about my journey of positivity and scratch-made food, inside the kitchen and out. I'm not a chef, I'm just someone extremely passionate about food and trying to make the world a better place, one dish at a time. Every episode, I'll talk about what's happening in my world to try to help people, and I'll share a featured recipe for you to make at home. Thank you so much for listening, and thank you so much for coming on this journey with me.
Episodes
Wednesday Nov 23, 2022
Wednesday Nov 23, 2022
Hello and welcome to the season four FINALE of Nikoli's Kitchen! A much shorter show today than normal because some things around here are going to be changing in the off-season, which I'll go more into detail on over the coming weeks on my Instagram page. 
For now, please check out this amazing recipe for Lemon Meringue Pie made entirely from scratch! I hope you enjoy this amazing recipe, and if you're celebrating, I hope your Thanksgiving is amazing. Whether you celebrate or not, know that I am always and forever grateful for all of the amazing support from you amazing listeners. You are my lifeblood. Thank you so much for all that you do. Happy Thanksgiving!
Tune in to hear my (much much much) better half Rebecca on The Life Shift at https://www.thelifeshiftpodcast.com/losing-hair-but-finding-strength-and-authenticity-rebecca-lerch/!
Featured Recipe for this Episode
Pie Crust-
1-1/2 cups all-purpose flour 
3/4 t salt 
1/4 cup shortening, cubed and frozen
1/4 cup butter, cubed and frozen
1/4 cup ice cold water (add ice cubes to your water to make this easier)

Preheat your oven to 400°.
Combine the flour and salt in a bowl and whisk together.
Add butter and shortening to the dry ingredient mixture. Stir this only with a wooden or silicone spoon and try not to touch it with your hands, as it'll make the butter and shortening melty and the dough won't come together as easily (and you'll lose some of the beautiful flakyness!). 
Add half of your water and continue mixing until combined. Add the remainder of the water as needed until the pie dough comes together in a nice ball that is not sticky (you may need more water, just chuck some ice cubes into cold water to get it to temperature).
Wrap the dough ball tightly in shrink wrap. 
Refrigerate for at least 30 minutes or until you are ready to use.

Partially Blind Baking the crust-
Lightly flour your counter or work surface- you can use wax paper here to help transfer it to the pie pan easier.
Roll the dough to 1/8" thickness.
With a sharp knife, cut the dough about 1-1/2" larger in diameter than your upside-down pie pan (you can just flip it over and put it in the center of the dough for easy reference). 
Gently roll your dough around your rolling pin or use your wax paper to transfer it into the pie pan. 
Unroll or place it into the pan and work it into place.
Place the pie shell into the freezer to chill for 30 minutes.
Remove the pie shell from the freezer and brush the edges of the crust with egg wash (if desired).
Line the inside of the pie crust with parchment paper.
Use pie weights to weigh down your shell to avoid it puffing up or prick holes into the bottom with a fork.
Bake the shell for 10-12 minutes or until the edges of the crust are starting to brown.
Remove the pie crust from the oven and remove your weights (if used). 
Set aside the crust and prepare your filling.

Lemon Filling-
8 egg yolks
2 c water
2 cup granulated sugar
2/3 c cornstarch
1/2 t salt
1 c fresh lemon juice
2 T lemon zest (zest of 4 lemons)
6 T unsalted butter, cut into chunks

Reduce your oven temperature to 350°.
Whisk your egg yolks together in a bowl and set them aside.
Add the water, sugar, cornstarch, salt, lemon juice, and zest in a saucepan.
Whisk together and cook until thick over mid heat, 5-7 minutes.
Reduce your heat to low.
Stirring your egg yolk constantly, add in a few spoons of the lemon mixture one at a time (this is to temper the egg yolks and bring the temperature up slowly instead of dumping all of the yolk directly into the hot lemon mixture, because then the eggs will start cooking). Add a total of around 1/2 to 1 c of the mixture this way.
Stir the egg yolk mixture into the lemon mixture until well-combined.
Turn heat back to mid and cook the mixture until it is thick and bubbling.
Remove from the heat and whisk in your butter.
Add your filling to the crust and make your meringue.

Meringue-
8 egg whites
1 t cream of tartar
1 c white sugar
1/4 t salt

~| Note: this will make WAY too much meringue for your pie. So you can either halve the recipe, or, I found this great recipe for Meringue Cookies you can make with the leftovers at https://platedcravings.com/meringue-cookies/! |~
Add your egg whites and cream of tartar to a large bowl or the bowl of your stand mixer. 
Add your sugar and salt to a separate bowl and set aside.
Using an electric mixer or your stand mixer, beat the egg whites and cream of tartar on medium speed for 1-2 minutes, then increase to high speed until you form soft peaks (you can pull a peak but it immediately falls). 
Add your sugar and salt and keep mixing at high speed until glossy, stiff peaks form. 
Spread your meringue over the top of your filling. 
Bake your pie on the bottom oven rack for 25-30 minutes or until your meringue is browned to your liking on top. 
Remove your pie from the oven and let it cool for an hour or so. 
Transfer to refrigerator and let it chill completely before serving.
Important Links
(All links open in a new window)
Main Website
Subscribe on Patreon!
Livestream for the Cure
Join my Discord Community!
Podcast RSS Feed
Like my Facebook Page!
Follow me on Twitter!
Follow me on Instagram!
Join my Facebook Group!
Subscribe to my YouTube Channel!
Follow me on Twitch!
Listen on

Apple Podcasts
Goodpods
Spotify
Google Podcasts
Pandora
TuneIn Radio
iHeart Radio
Spreaker
PlayerFM
Stitcher
Podchaser
Guest Appearances
I had the privilege of sitting down with Brendan of Unchefed to talk about food, mental health, and life. Check out this great conversation at https://podcasts.apple.com/us/podcast/i-love-food-nicholas-haskins-from-nikolis-kitchen/id1578898329?i=1000568984881!
I was thrilled to be invited back to Movie Reviews in 20 Qs, where I joined Liz and Billy to talk about the new murder mystery See How They Run! Tune in at https://mritqs.podbean.com/e/ep-216-see-how-they-run-w-nikoli-s-kitchen-and-we-watched-a-thing/! (Note: NSFW).
I had the honor of joining Billy on the We Watched a Thing podcast to talk about the latest entry in the View Askewniverse, Clerks III! Check out our discussion at https://podcasts.apple.com/us/podcast/clerks-iii-w-nick-from-nikolis-kitchen/id1315531685?i=1000583178272 (Note: NSFW). 
Credits
Intro "Midnight in Carmel" by Wendy Marcini. Licensed from Epidemic Sound. Check out her amazing music at https://open.spotify.com/artist/4CaTfk4pRkpA8A9gXamYg2.
Outro "The Climb" from Music for Makers. Sign up and get a royalty-free song delivered to your inbox every Monday at www.musicformakers.com!
Other music in this episode licensed from Epidemic Sound. Learn more and sign up for a free trial with access to thousands of songs at https://www.epidemicsound.com/.
Track Listing:

"Sometimes When you Sleep," "Moments Passing By," and "I'm Still Missing You" by Wendy Marcini.
"Midnight Swing" by Jules Gaia.