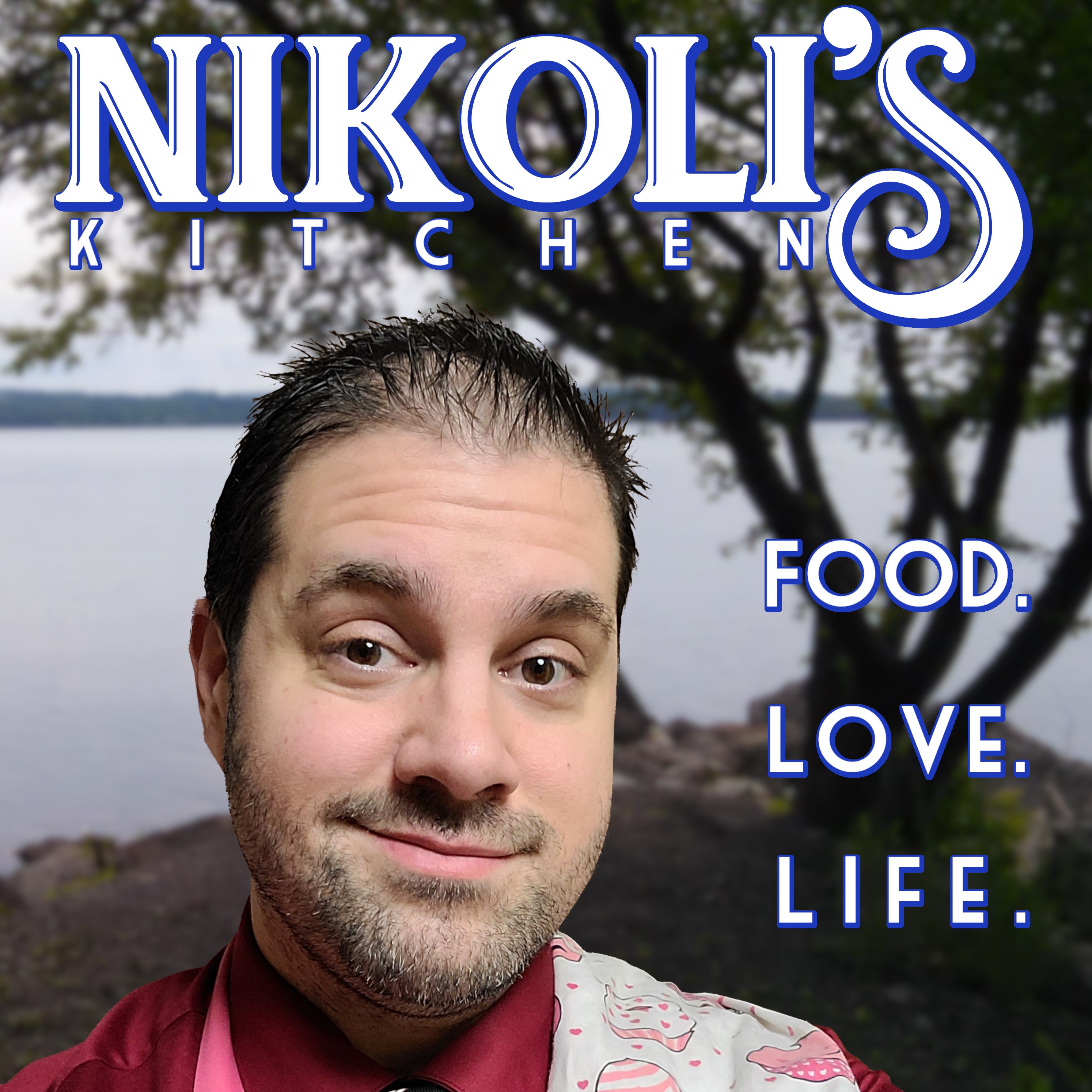 Welcome everyone! This show is all about my journey of positivity and scratch-made food, inside the kitchen and out. I'm not a chef, I'm just someone extremely passionate about food and trying to make the world a better place, one dish at a time. Every episode, I'll talk about what's happening in my world to try to help people, and I'll share a featured recipe for you to make at home. Thank you so much for listening, and thank you so much for coming on this journey with me.
Episodes
Saturday Nov 12, 2022
Saturday Nov 12, 2022
Buongiorno! Welcome to butchering Italian pronunciation on a new Nikoli's Kitchen! I've really wanted to do some kind of shredded braised beef dish, so I LET THE HEAT HIT THE MEAT and started building a ton of layers of flavor into this Pasta alla Genovese. Originally I wanted to make a version of a dish I made on my old food show a long time ago, a beef and onion ragu, but in researching it I came to find out that this is more what I wanted to make- though truthfully I'm sure some of the former bleeds into the latter. Regardless, this was an amazing dish absolutely loaded with flavor, and I hope you give it a try. In the first half of the show I talk about my frustrations with sitting down to record the first segment of the show, and how that gets me into my own head- instead of just sharing where I am on my journey. Because that's what this show is, right? It's my journey. For better or worse.
Tune in to hear my (much much much) better half Rebecca on The Life Shift at https://www.thelifeshiftpodcast.com/losing-hair-but-finding-strength-and-authenticity-rebecca-lerch/!
Featured Recipe for this Episode
1 lb yellow onion (3-4 onions), sliced thin
1 c celery, finely chopped
1 c carrot, finely chopped
6 cloves of garlic, minced
2 T fresh rosemary, finely chopped and divided
1 T fresh thyme, finely chopped and divided
1/2 c fresh parsley, finely chopped
2 T tomato paste
2 oz breasola, chopped
Salt
Pepper
Olive oil
1.5 lb chuck eye roast, cut into 4 equal-sized chunks
2 c white wine
1 c chicken stock
1 package (6 oz) of cherry tomatoes, halved
Chopped parsley (for serving)
Freshly-grated pecorino romano cheese (for serving)
1 lb rigatoni

Preheat oven to 300° and move your rack to the middle lower position. 
Prepare your chuck eye roast if you haven't by cutting it into four equal-sized pieces. Season liberally with salt and pepper as well as half of your rosemary and thyme.
Drizzle olive oil in a large Dutch oven and heat over mid-high heat. 
Add your beef and sear on all sides until you form a nice crust. LET THE HEAT HIT THE MEAT!
Remove your Dutch oven from the heat and remove your beef to a plate/platter to rest. 
Reduce heat to mid and allow your Dutch oven to cool for just a minute.
Add pot back to the heat and then add your breasola and cook for 2-3 minutes (you can also do pancetta and/or salami here). 
Add your onions, celery, and carrots, to the Dutch oven. Sprinkle some salt to help sweat them out. Cook for 4-5 minutes or until everything has started to soften and your onions are translucent.
Make a place in the pot for your remaining herbs and garlic and add them in. Cook for 60-90 seconds, stirring so they don't burn. 
Add your tomato paste and cook for another 60-90 seconds. 
Deglaze your pan with 1/2 c of your white wine, scraping up all of the browned bits as best you can. 
Add the rest of your wine and the chicken stock to the pot. 
Add your beef back to the pot. There should be enough liquid that your beef is just sticking out the top- if there's not, add some water (you'll be reducing this later anyway). 
Bake in the oven uncovered for 2-1/2 hours, flipping your beef once to submerge the top parts under the water.
Fill a stock pot with water and add salt and bring to a boil.
Cook your rigatoni according to directions and drain when done; reserve 1-1/2 c pasta water. 
Remove the Dutch oven from the oven and remove your beef to a plate to rest. It should be fork tender at this point. 
Return the Dutch oven to the stovetop and turn on over mid heat. 
Add the cherry tomatoes and taste your sauce; add any additional seasonings you like.
Add 1 c of the pasta water.
Cook the sauce until reduced to your desired consistency (add the remaining pasta water if it is too thick). 
Shred your beef and return it to the sauce, stirring until everything is well-combined.
Season to taste one last time.
Add your rigatoni to the Dutch oven and stir until everything is well-combined. Cook for another minute or two just to bring it together. 
Serve topped with fresh parsley and pecorino romano cheese. 
Important Links
(All links open in a new window)
Main Website
Subscribe on Patreon!
Livestream for the Cure
Join my Discord Community!
Podcast RSS Feed
Like my Facebook Page!
Follow me on Twitter!
Follow me on Instagram!
Join my Facebook Group!
Subscribe to my YouTube Channel!
Follow me on Twitch!
Listen on

Apple Podcasts
Goodpods
Spotify
Google Podcasts
Pandora
TuneIn Radio
iHeart Radio
Spreaker
PlayerFM
Stitcher
Podchaser
Guest Appearances
I had the privilege of sitting down with Brendan of Unchefed to talk about food, mental health, and life. Check out this great conversation at https://podcasts.apple.com/us/podcast/i-love-food-nicholas-haskins-from-nikolis-kitchen/id1578898329?i=1000568984881!
I was thrilled to be invited back to Movie Reviews in 20 Qs, where I joined Liz and Billy to talk about the new murder mystery See How They Run! Tune in at https://mritqs.podbean.com/e/ep-216-see-how-they-run-w-nikoli-s-kitchen-and-we-watched-a-thing/! (Note: NSFW).
I had the honor of joining Billy on the We Watched a Thing podcast to talk about the latest entry in the View Askewniverse, Clerks III! Check out our discussion at https://podcasts.apple.com/us/podcast/clerks-iii-w-nick-from-nikolis-kitchen/id1315531685?i=1000583178272 (Note: NSFW). 
Credits
Intro "Midnight in Carmel" by Wendy Marcini. Licensed from Epidemic Sound. Check out her amazing music at https://open.spotify.com/artist/4CaTfk4pRkpA8A9gXamYg2.
Outro "The Climb" from Music for Makers. Sign up and get a royalty-free song delivered to your inbox every Monday at www.musicformakers.com!
Other music in this episode licensed from Epidemic Sound. Learn more and sign up for a free trial with access to thousands of songs at https://www.epidemicsound.com/.
Track Listing:

"That Rainy Day," "I'm Still Missing You," "I will be Right Here with You," and "As Long as you Stay" by Wendy Marcini.