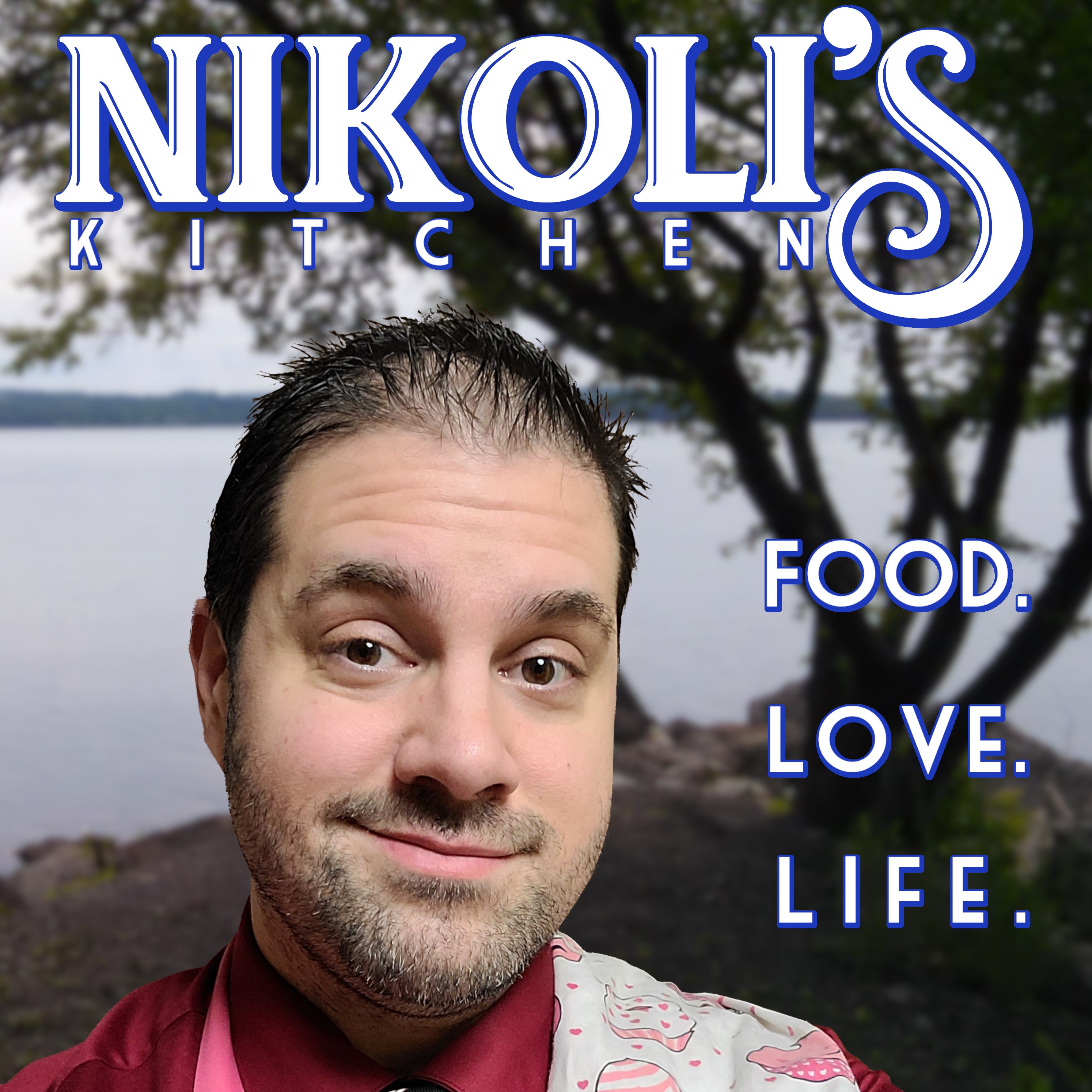 Welcome everyone! This show is all about my journey of positivity and scratch-made food, inside the kitchen and out. I'm not a chef, I'm just someone extremely passionate about food and trying to make the world a better place, one dish at a time. Every episode, I'll talk about what's happening in my world to try to help people, and I'll share a featured recipe for you to make at home. Thank you so much for listening, and thank you so much for coming on this journey with me.
Episodes
Thursday Nov 03, 2022
Thursday Nov 03, 2022
Hello everyone and welcome back to another new episode of Nikoli's Kitchen, which is coming a day later than it should be, but I'm still grateful to get it out for you. This week on the show, I talk about making homemade sloppy Joes with their own homemade ketchup, but before that I'm replaying a positivity segment from a stream back in September that I did to raise money for the American Foundation for Suicide Prevention. 

Take good care of you, and please be kind to yourself. Remember that you are not alone.
Featured Recipe for this Episode
Homemade Vegetable Ketchup
1- 28 oz can whole peeled tomatoes
2 medium yellow onions, sliced
6 cloves of garlic, minced
2 T fresh ginger, minced
1 c fresh basil
1 zucchini, chopped
1/2 c apple cider vinegar
1/3 c dark brown sugar
1/2 t allspice
1/2 t smoked paprika
1/2 t ground mustard
1/2 t turmeric
3 oz. tomato paste
1 T Salt
1 T pepper 
1 c carrots, chopped
2 c water

Add your carrots and water to a saucepan and bring to a boil over medium heat.
Cook the carrots until soft, then strain them out and reserve whatever water is left from cooking them down (you'll add this to your ketchup later). 
Drizzle olive oil into a large Dutch oven or large pot and heat over mid heat.
Add your onions and begin cooking them down, sprinkling over a bit of salt to help sweat them out. 
Add your vinegar and reduce heat to mid-low, cooking onions down until your liquid is mostly gone, 15-18 minutes. Stir periodically.
Return heat to mid and make a space in the middle of your pot, then add the garlic and ginger.
Cook for 1 minute, stirring so they don't burn.
Add your allspice, smoked paprika, and ground mustard, cooking for another minute.
Add tomato paste and stir well. 
Add your basil, zucchini, sugar, and your tomatoes. 
Add your reserved water from your carrots, topping it up to 1 c if you have less than that. 
Reduce heat to mid-low and cover. Cook for 18-20 minutes, stirring every 5 minutes or so, until your zucchini is softened and your tomatoes have started breaking apart.
Add your carrots back to the pot.
Using an immersion blender or pouring this into a blender, blend the ketchup until it is very smooth (You can strain it here if you like, but I like the texture of a homemade veggie ketchup).
Return the ketchup to your pot and continue cooking on mid-low for another 30-60 minutes or until it reaches desired flavor and consistency. 
Season with salt, pepper, or additional sugar to taste. If it is too thick, add water to thin it out to the desired consistency.
Sloppy Joe, Sloppy Sloppy Joe!
2 lbs ground beef 80/20
2 T butter
2 T olive oil
1/2 c dry white wine
1 Green pepper, diced
1 red onion, diced
8 cloves of garlic, chopped
4 T tomato paste
2 c ketchup
1/2 c water (more or less to thin/thicken sauce to desired thickness)
4 T Worcestershire Sauce
2 T dijon mustard 
4 T dark brown sugar
Salt
Pepper
Break up your ground beef into equal-sized portions before you add it into your skillet- I break it up onto a plate how I want it to go into the skillet. Season liberally with salt and pepper. 
Add half of the butter and olive oil to a large skillet or pot over mid-high heat. 
Once the butter is melted, add half of your ground beef and let it sear for 1-2 minutes. LET THE HEAT HIT THE MEAT! Resist the urge to stir it frequently or move it around. Let it remain so it can form a good crust and start developing flavor.
Once it is seared to your liking (you'll definitely smell it), stir and cook it until you see no more pink on the outside. The beef should NOT be cooked through here, you'll finish it in your sauce. 
Drain your ground beef, reserving the fat. 
Repeat the above steps for the remaining portions of ground beef, reserving the fat each time.
After you've drained the last of the ground beef, deglaze your pan with the white wine. Use a spoon to scrape up any stuck-on browned bits. 
Add the onions and peppers to the pan and cook for 3-5 minutes or until soft and the wine is mostly cooked off.
Make space in your pan and add the garlic. Cook for 30-60 seconds, stirring to make sure it doesn't burn.
Add your tomato paste and stir again, cooking for another 30-60 seconds. 
Return the beef to the pan and add your ketchup, water, Worcestershire, mustard, and brown sugar. Stir everything to combine well.
Reduce heat to mid and cook for 12-18 minutes, or until everything has thickened to desired consistency. Season to taste toward the end of this process, you don't want to season beforehand in case the sauce reduces and the flavors get overpowering.
Serve over a soft toasted brioche bun.
Important Links
(All links open in a new window)
Main Website
Subscribe on Patreon!
Livestream for the Cure
Join my Discord Community!
Podcast RSS Feed
Like my Facebook Page!
Follow me on Twitter!
Follow me on Instagram!
Join my Facebook Group!
Subscribe to my YouTube Channel!
Follow me on Twitch!
Listen on

Apple Podcasts
Goodpods
Spotify
Google Podcasts
Pandora
TuneIn Radio
iHeart Radio
Spreaker
PlayerFM
Stitcher
Podchaser
Guest Appearances
I had the privilege of sitting down with Brendan of Unchefed to talk about food, mental health, and life. Check out this great conversation at https://podcasts.apple.com/us/podcast/i-love-food-nicholas-haskins-from-nikolis-kitchen/id1578898329?i=1000568984881!
I was thrilled to be invited back to Movie Reviews in 20 Qs, where I joined Liz and Billy to talk about the new murder mystery See How They Run! Tune in at https://mritqs.podbean.com/e/ep-216-see-how-they-run-w-nikoli-s-kitchen-and-we-watched-a-thing/! (Note: NSFW).
I had the honor of joining Billy on the We Watched a Thing podcast to talk about the latest entry in the View Askewniverse, Clerks III! Check out our discussion at https://podcasts.apple.com/us/podcast/clerks-iii-w-nick-from-nikolis-kitchen/id1315531685?i=1000583178272 (Note: NSFW). 
Credits
Intro "Midnight in Carmel" by Wendy Marcini. Licensed from Epidemic Sound. Check out her amazing music at https://open.spotify.com/artist/4CaTfk4pRkpA8A9gXamYg2.
Outro "The Climb" from Music for Makers. Sign up and get a royalty-free song delivered to your inbox every Monday at www.musicformakers.com!
Other music in this episode licensed from Epidemic Sound. Learn more and sign up for a free trial with access to thousands of songs at https://www.epidemicsound.com/.
Track Listing:

"A Single Gentle Raindrop," and "Tinker is Asleep" by Rand Aldo.
"Sandcastle" by Magnus Ludvigsson.
"Motionless" by Alan Ellis.
"Vulpecula" by Johannes Bornlöf.
"After You Took Off" by Miles Avida.