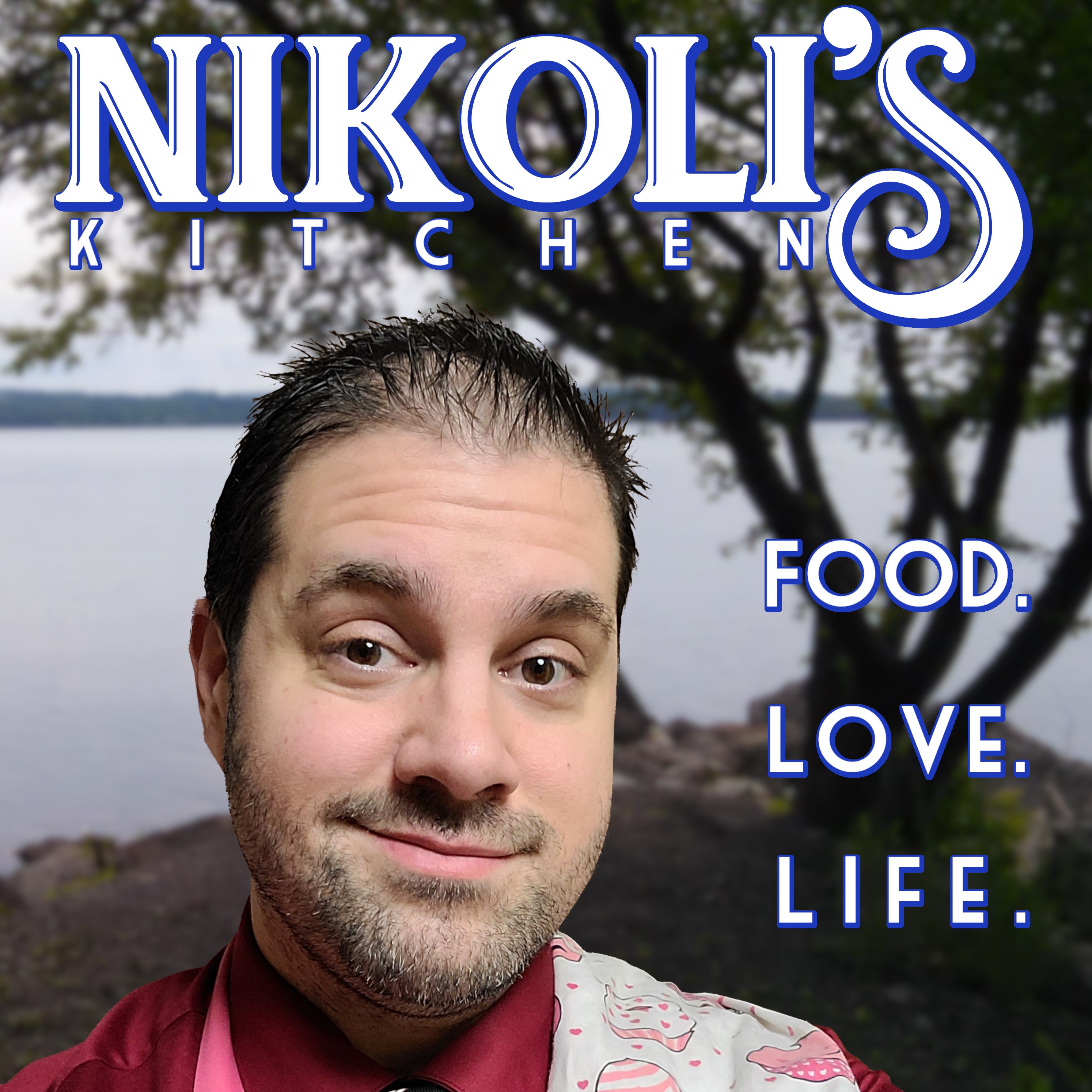 Welcome everyone! This show is all about my journey of positivity and scratch-made food, inside the kitchen and out. I'm not a chef, I'm just someone extremely passionate about food and trying to make the world a better place, one dish at a time. Every episode, I'll talk about what's happening in my world to try to help people, and I'll share a featured recipe for you to make at home. Thank you so much for listening, and thank you so much for coming on this journey with me.
Episodes
Wednesday Oct 19, 2022
Wednesday Oct 19, 2022
Hello everyone and welcome back to another brand new episode of Nikoli's Kitchen! Today I'll be talking about the "Potential of Tomorrow" and reading a poem I wrote in a much darker time in my life. After that, we're making Pumpkin Pecan Thumbprints, and talking about my "kitchen brain." Thank you for listening!
Featured Recipe for this Episode
Cookies-
1/2 - 3/4 c unsalted butter, softened (see below)
1/2 c pumpkin puree
1/2 c light brown sugar, packed
2 eggs, separated to whites and yolks
1 t vanilla
2 c flour
1/2 t salt
1 T cinnamon
1 t nutmeg
1/4 t allspice

Coating-
1 c finely chopped pecans
1/4 c brown sugar
1 T cinnamon

~| If your pumpkin puree is liquid-y, you'll need to cook the moisture out of it. Add 1/4 c butter and your pumpkin to a saucepan and heat over mid heat, stirring regularly until the moisture is gone and you're left with a thick pumpkin paste. I didn't add any fat to this step when I did it but I'd recommend at least some butter here, your cookies will end up a little bit richer and nuttier. If you have solid pack pumpkin, you can omit this step, unless you want to melt butter into this and cook off the moisture to add more richness to that. |~
Preheat oven to 350°.
Cream together your butter, pumpkin puree, egg yolk, brown sugar, and vanilla in a bowl. 
Sift your flour, salt, and dry spices into a separate bowl. 
Add your dry ingredients into your wet, mixing just until the dry ingredients are incorporated.
Roll your dough into balls, about 1 t each. 
Combine your pecans, brown sugar, and cinnamon in a bowl.
Whip your egg whites slightly with a fork.
Dip the dough balls into the egg white, rolling around until fully coated.
Roll the dough in the pecan mixture.
Place 1" apart on an ungreased baking sheet.
Press your thumb (or if you have huge fingers like me, your pinky) into the center of each dough ball to create a depression.
Bake 10 - 12 minutes on the center oven rack.
Remove and rest on a baking rack until cool.

Cream Cheese Frosting-
~| Recipe is adapted from Ann Reardon's recipe at https://www.howtocookthat.net/public_html/best-frosting-recipes/ |~
16 oz. 1/3 fat cream cheese, at room temperature
1/2 c unsalted butter, at room temperature
2-1/2 c powdered sugar
1 t vanilla bean paste

Beat together the cream cheese and butter until smooth and well-combined.
Stir in your powdered sugar (slowly, so it doesn't go everywhere) until well-combined.
Beat on high for 2 minutes.
Add your vanilla at the end and beat until incorporated.
Add the frosting to a piping bag and pipe a dollop into the depression on each cookie.
Serve the cookies chilled!
Important Links
(All links open in a new window)
Main Website
Subscribe on Patreon!
Livestream for the Cure
Join my Discord Community!
Podcast RSS Feed
Like my Facebook Page!
Follow me on Twitter!
Follow me on Instagram!
Join my Facebook Group!
Subscribe to my YouTube Channel!
Follow me on Twitch!
Listen on

Apple Podcasts
Goodpods
Spotify
Google Podcasts
Pandora
TuneIn Radio
iHeart Radio
Spreaker
PlayerFM
Stitcher
Podchaser
Guest Appearances
I had the privilege of sitting down with Brendan of Unchefed to talk about food, mental health, and life. Check out this great conversation at https://podcasts.apple.com/us/podcast/i-love-food-nicholas-haskins-from-nikolis-kitchen/id1578898329?i=1000568984881!
I was thrilled to be invited back to Movie Reviews in 20 Qs, where I joined Liz and Billy to talk about the new murder mystery See How They Run! Tune in at https://mritqs.podbean.com/e/ep-216-see-how-they-run-w-nikoli-s-kitchen-and-we-watched-a-thing/! (Note: NSFW).
I had the honor of joining Billy on the We Watched a Thing podcast to talk about the latest entry in the View Askewniverse, Clerks III! Check out our discussion at https://podcasts.apple.com/us/podcast/clerks-iii-w-nick-from-nikolis-kitchen/id1315531685?i=1000583178272 (Note: NSFW). 
Credits
Intro "Midnight in Carmel" by Wendy Marcini. Licensed from Epidemic Sound. Check out her amazing music at https://open.spotify.com/artist/4CaTfk4pRkpA8A9gXamYg2.
Outro "The Climb" from Music for Makers. Sign up and get a royalty-free song delivered to your inbox every Monday at www.musicformakers.com!
Other music in this episode licensed from Epidemic Sound. Learn more and sign up for a free trial with access to thousands of songs at https://www.epidemicsound.com/.
Track Listing:

"Bringing Hope," and "You're Everywhere" by Gold in June.
"As Long as you Stay," and "Sometimes When You Sleep" by Wendy Marcini.
"Godspeed Nebulae" by Rand Aldo.