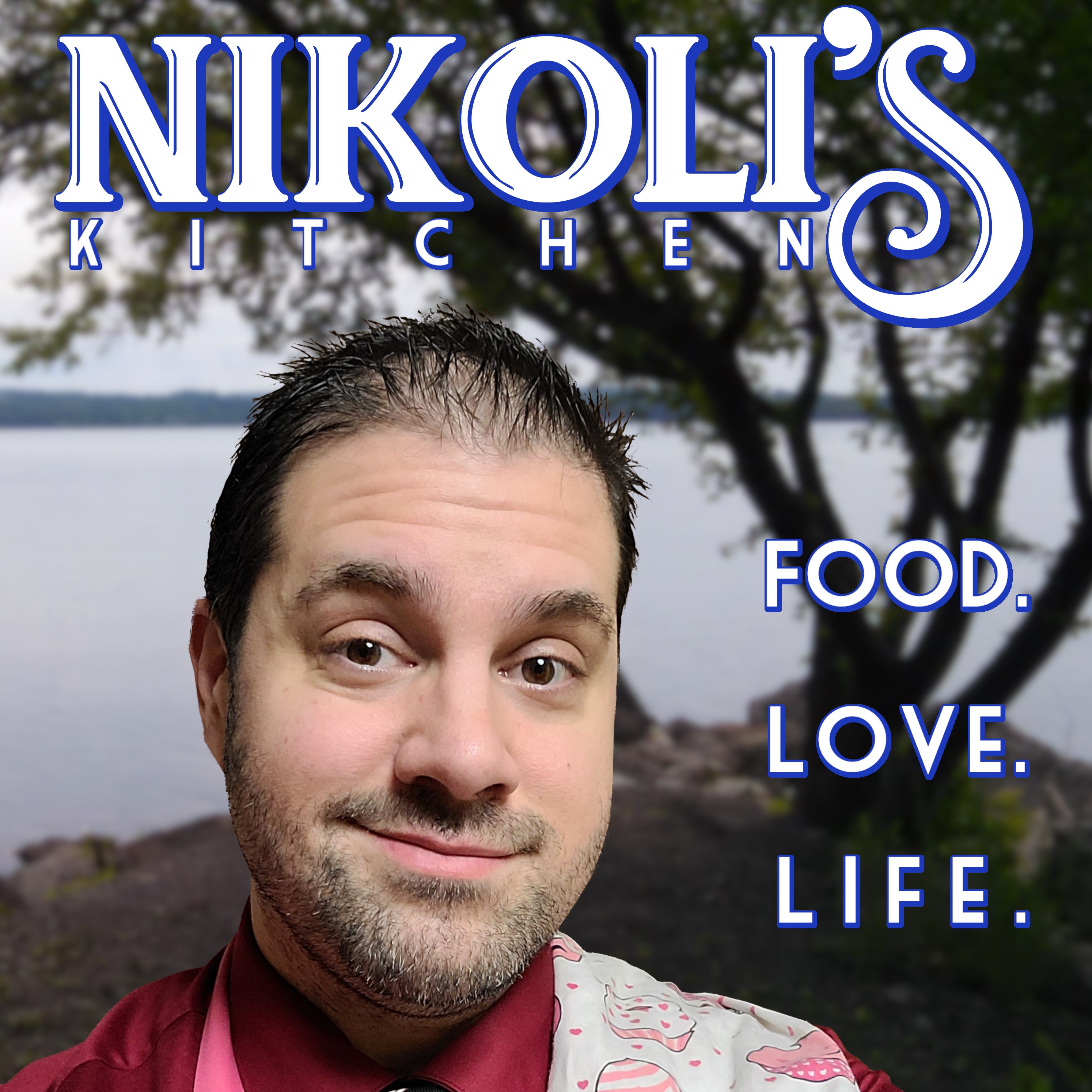 Welcome everyone! This show is all about my journey of positivity and scratch-made food, inside the kitchen and out. I'm not a chef, I'm just someone extremely passionate about food and trying to make the world a better place, one dish at a time. Every episode, I'll talk about what's happening in my world to try to help people, and I'll share a featured recipe for you to make at home. Thank you so much for listening, and thank you so much for coming on this journey with me.
Episodes
Wednesday Oct 12, 2022
Wednesday Oct 12, 2022
Hello everyone and welcome back to a brand new Nikoli's Kitchen! This week on the show, I'm talking about where I am in my current journey, and then in the back half of the show I'm talking about this new pizza dough recipe as a base for this incredible vegetarian breakfast pizza! This is a MUST-TRY if you love breakfast pizza! Thank you all so much for listening!
Featured Recipe for this Episode
Pizza Dough recipe: 
1-3/4 cups hot water 
2 T olive oil 
2 t Salt 
1 t white sugar
1 t garlic powder 
2 cups unbleached all-purpose flour 
2 cups bread flour
2-1/4 t yeast 

Combine the water and sugar, and stir. This mixture should be lukewarm, around 110°.
Add the yeast and stir. While it proofs, move on to the next step.
Add flour, salt, and garlic powder to your stand mixer bowl and mix the ingredients together with a whisk.
Attach your dough hook. Turn on the mixer and add the olive oil.
Add the yeast mixture slowly until the dough begins pulling away from the sides of the bowl. If it becomes sticky and sticks to the bowl, add a touch more flour; if it is still shaggy looking, add more of the yeast mixture in small dribbles (or water if it is gone).
Tip the dough onto a lightly-floured counter and form into a ball. 
Separate the dough into two equal-sized balls.
Oil the inside of two large bowls with olive oil and place the balls of dough inside.
Cover with plastic wrap and refrigerate for at least 24 hours but up to 48.
Take the dough out 2 hours before you plan to bake your pizza to allow it to rise.
Sprinkle a light dusting of flour or cornmeal on your counter or surface (depending on the type of pizza). 
Begin working your dough out by hand, keeping it circular, stretching it to the size of your pizza pan. I didn't need a rolling pin for this, but use it if you need it.
Place your dough onto the pizza pan.

Béchamel Sauce:
1/4 c unsalted butter
1/4 c all-purpose flour
1-1/2 c milk
1/2 c heavy cream
1 T salt
Nutmeg and allspice to taste
1/2 c freshly-shredded parmesan cheese

Melt your butter in a saucepan over mid head.
Add your flour and stir until well-combined, cooking for 1-2 minutes to cook out the flour taste.
Add your milk/cream and stir (I'll note I had 2% milk, hence the heavy cream- you can use 2 c whole milk instead).
As this begins to cook it will thicken into your béchamel. 
Add seasoning and stir to combine.
Remove from the heat and add your parmesan cheese, stirring until melted and well-combined.
Layer béchamel over your pizza dough.

Toppings:
12 eggs
Cooking spray
2 c shredded mozzarella cheese
2 c freshly-shredded white cheddar cheese
2 c baby spinach, roughly chopped
1/2 red onion, very thinly sliced
Fresh Black pepper

Preheat your oven to 450°.
Whisk your eggs in a large bowl with 2 T water until well-combined.
Spray a large skillet with cooking spray and heat over mid heat.
Add the eggs and cook them, stirring regularly, until they are about half-done.
Remove from the heat, continuing to stir. 
Add partially-cooked eggs onto the pizza dough in an even layer.
Add your spinach and red onion in an even layer.
Cover with your cheeses.
Season with freshly-cracked black pepper.
Bake in the oven at 450° for 12 minutes.
Open your oven and de-pan your pizza (optional but it'll help crisp up that crust). 
Bake for another 5 minutes or until the cheese is nice and browned.
Important Links
(All links open in a new window)
Main Website
Subscribe on Patreon!
Livestream for the Cure
Join my Discord Community!
Podcast RSS Feed
Like my Facebook Page!
Follow me on Twitter!
Follow me on Instagram!
Join my Facebook Group!
Subscribe to my YouTube Channel!
Follow me on Twitch!
Listen on

Apple Podcasts
Goodpods
Spotify
Google Podcasts
Pandora
TuneIn Radio
iHeart Radio
Spreaker
PlayerFM
Stitcher
Podchaser
Guest Appearances
I was honored to sit down with Ashlee of the Rabbit Ears TV Podcast again to talk about all things Big Little Lies! Check it out at https://www.netflixnswill.com/rabbitears/2021/8/31/big-little-lies.
I had the amazing opportunity to sit down with Em of Verbal Diorama to talk about Anchorman: The Legend of Ron Burgandy and we had a blast. Please tune in at https://www.verbaldiorama.com/episode/anchorman-the-legend-of-ron-burgundy!
I let out a massive ROAR with my boys on Epic Film Guys as we sat down to dissect/destroy Jurassic World: Dominion! https://epicfilmguys.podbean.com/e/efg-classic-jurassic-world-dominion-review/.
I had the privilege of sitting down with Brendan of Unchefed to talk about food, mental health, and life. Check out this great conversation at https://podcasts.apple.com/us/podcast/i-love-food-nicholas-haskins-from-nikolis-kitchen/id1578898329?i=1000568984881!
Credits
Intro "Midnight in Carmel" by Wendy Marcini. Licensed from Epidemic Sound. Check out her amazing music at https://open.spotify.com/artist/4CaTfk4pRkpA8A9gXamYg2.
Outro "The Climb" from Music for Makers. Sign up and get a royalty-free song delivered to your inbox every Monday at www.musicformakers.com!
Other music in this episode licensed from Epidemic Sound. Learn more and sign up for a free trial with access to thousands of songs at https://www.epidemicsound.com/.
Track Listing:

"Sandcastle," "Down the Memory Lane," and "Early Bloomer" by Magnus Ludvigsson.
"Langholmen" by Gustav Lundgren.
"Letting Go of the Day" by Hanna Lindgren.
"The Way to the Sky" by Hampus Naeselius.