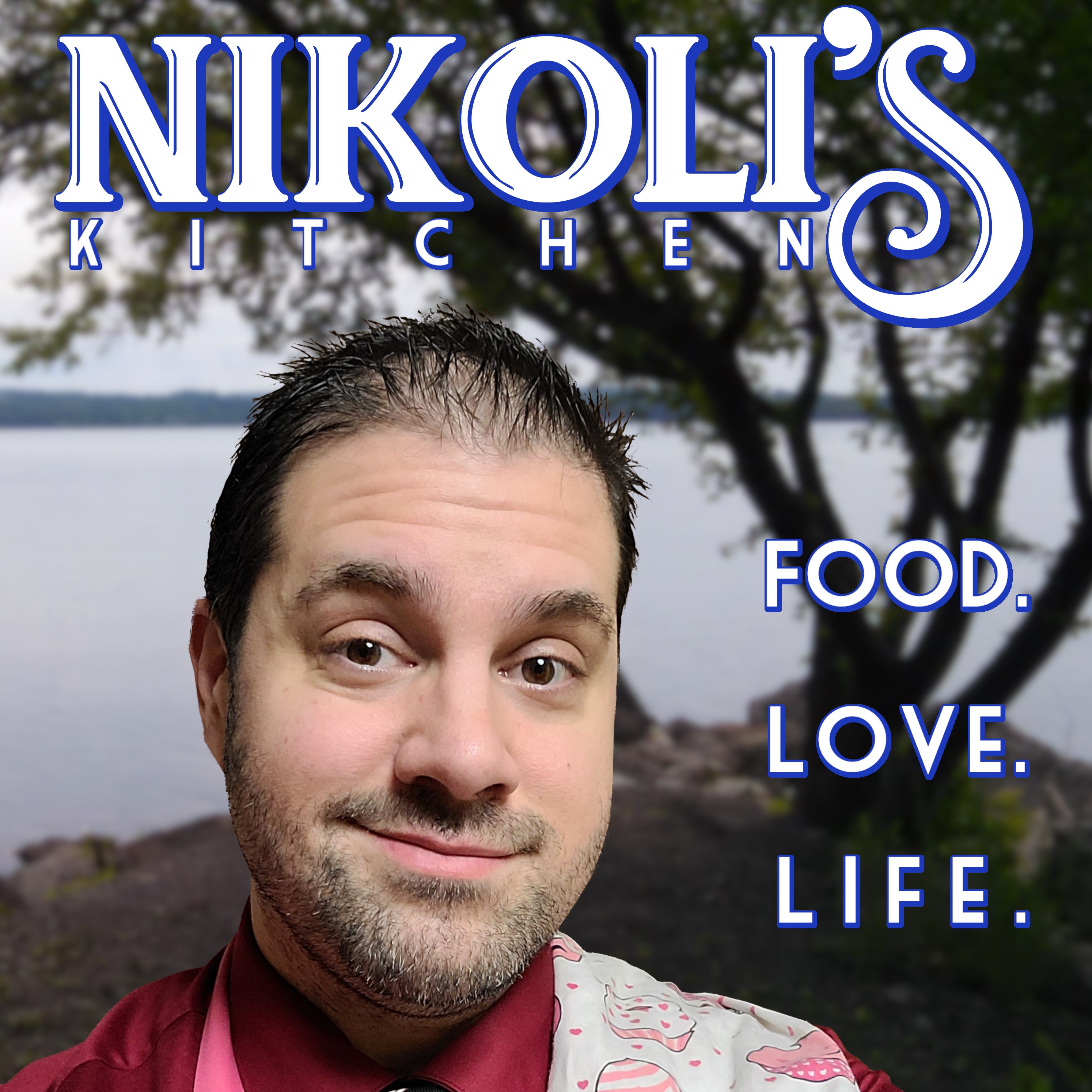 Welcome everyone! This show is all about my journey of positivity and scratch-made food, inside the kitchen and out. I'm not a chef, I'm just someone extremely passionate about food and trying to make the world a better place, one dish at a time. Every episode, I'll talk about what's happening in my world to try to help people, and I'll share a featured recipe for you to make at home. Thank you so much for listening, and thank you so much for coming on this journey with me.
Episodes
Wednesday Sep 21, 2022
Wednesday Sep 21, 2022
Hello everyone and welcome back to another episode of Nikoli's Kitchen! This week, I'm making the most glorious sandwich ever to make it between two halves of a brioche bun with this incredible fried chicken sandwich topped with a whipped hot honey butter. Also... how you talk to yourself matters. 
This month's charity stream will benefit the American Foundation for Suicide Prevention. Tune in Sept 28th at 5 PM EST at https://twitch.tv/nikoliskitchen for games, food, and fun as we stream to raise money and awareness for AFSP. 
Featured Recipe for this Episode
Marinade-
4 large breasts, pounded flat and cut in half
2 c buttermilk
2 T salt
1 T black pepper
1 T smoked paprika
1/4 t allspice
1/4 t nutmeg

24-48 hours before you're preparing the meal, combine all ingredients in a large bowl and refrigerate.

Coating-
1.5 c ap flour
1/4 c cornstarch
1/4 c rice flour
1 T onion powder
1 T garlic powder
1 T smoked paprika
2 T salt
1 T black pepper
4 eggs
1 gallon peanut oil for frying

Mix your AP flour, cornstarch, rice flour, and dry seasonings in a large container and whisk together until combined.
In a separate container, crack and whisk your eggs with a dribble of water.
Remove your chicken from the buttermilk marinade and place on a platter/plate lined with paper towels or a towel. Use another towel/paper towels to pat the chicken dry, removing excess marinade.
Dredge the chicken through your flour mixture and place on a rack to rest for 15 minutes.
Heat your oil to 350°.
Dredge your chicken in the egg wash, then dredge it in your flour mix again, returning to the rack to rest while your oil comes to temperature.
Fry at 350° for 4 minutes, then remove to a paper towel-lined tray to rest.
Heat the oil to 375° and fry again for 2 minutes or so until done.
Remove the chicken back to the paper towel-lined tray and sprinkle with salt.

Whipped Hot Honey Garlic Butter-
1 stick unsalted butter, softened
1/8 c whole milk
3 cloves of garlic, minced
3 T honey
1 t salt
2 t calabrian chili oil

Combine all ingredients in a bowl and whip on low speed with a mixer for 2-3 minutes until everything comes together.
Mix on high speed for 2-3 minutes until the butter becomes lighter and fluffier.

Building your Sandwich-
Brioche Bun
1 T Aioli of your choice
1/2 c baby arugula
2 T whipped butter
1 t chopped scallions, optional

Toast your brioche bun by spreading your whipped butter on each half (about 1/2 T each) and toast until golden brown.
Add a smear of your aioli (I had green goddess aioli from Quick Bite 26) over the bottom bun.
Add your baby arugula, then top with your fried chicken.
Add the remaining whipped butter and scallions over the top of your chicken and serve.
I mentioned this in the recording, but something acidic is going to play well here. Add a pickle, or pickled onions, or something over the top.
Important Links
(All links open in a new window)
Main Website
Subscribe on Patreon!
Livestream for the Cure
Join my Discord Community!
Podcast RSS Feed
Like my Facebook Page!
Follow me on Twitter!
Follow me on Instagram!
Join my Facebook Group!
Subscribe to my YouTube Channel!
Follow me on Twitch!
Listen on

Apple Podcasts
Goodpods
Spotify
Google Podcasts
Pandora
TuneIn Radio
iHeart Radio
Spreaker
PlayerFM
Stitcher
Podchaser
Guest Appearances
I was honored to sit down with Ashlee of the Rabbit Ears TV Podcast again to talk about all things Big Little Lies! Check it out at https://www.netflixnswill.com/rabbitears/2021/8/31/big-little-lies.
I had the amazing opportunity to sit down with Em of Verbal Diorama to talk about Anchorman: The Legend of Ron Burgandy and we had a blast. Please tune in at https://www.verbaldiorama.com/episode/anchorman-the-legend-of-ron-burgundy!
I let out a massive ROAR with my boys on Epic Film Guys as we sat down to dissect/destroy Jurassic World: Dominion! https://epicfilmguys.podbean.com/e/efg-classic-jurassic-world-dominion-review/.
I had the privilege of sitting down with Brendan of Unchefed to talk about food, mental health, and life. Check out this great conversation at https://podcasts.apple.com/us/podcast/i-love-food-nicholas-haskins-from-nikolis-kitchen/id1578898329?i=1000568984881!
Credits
Intro "Midnight in Carmel" by Wendy Marcini. Licensed from Epidemic Sound. Check out her amazing music at https://open.spotify.com/artist/4CaTfk4pRkpA8A9gXamYg2.
Outro "The Climb" from Music for Makers. Sign up and get a royalty-free song delivered to your inbox every Monday at www.musicformakers.com!
Other music in this episode licensed from Epidemic Sound. Learn more and sign up for a free trial with access to thousands of songs at https://www.epidemicsound.com/.
Track Listing:

"Dordogne Peace II," "Goodnight Story," "L'ombre du Platane," "Sandcastle," and "Contemplation" by Magnus Ludvigsson.