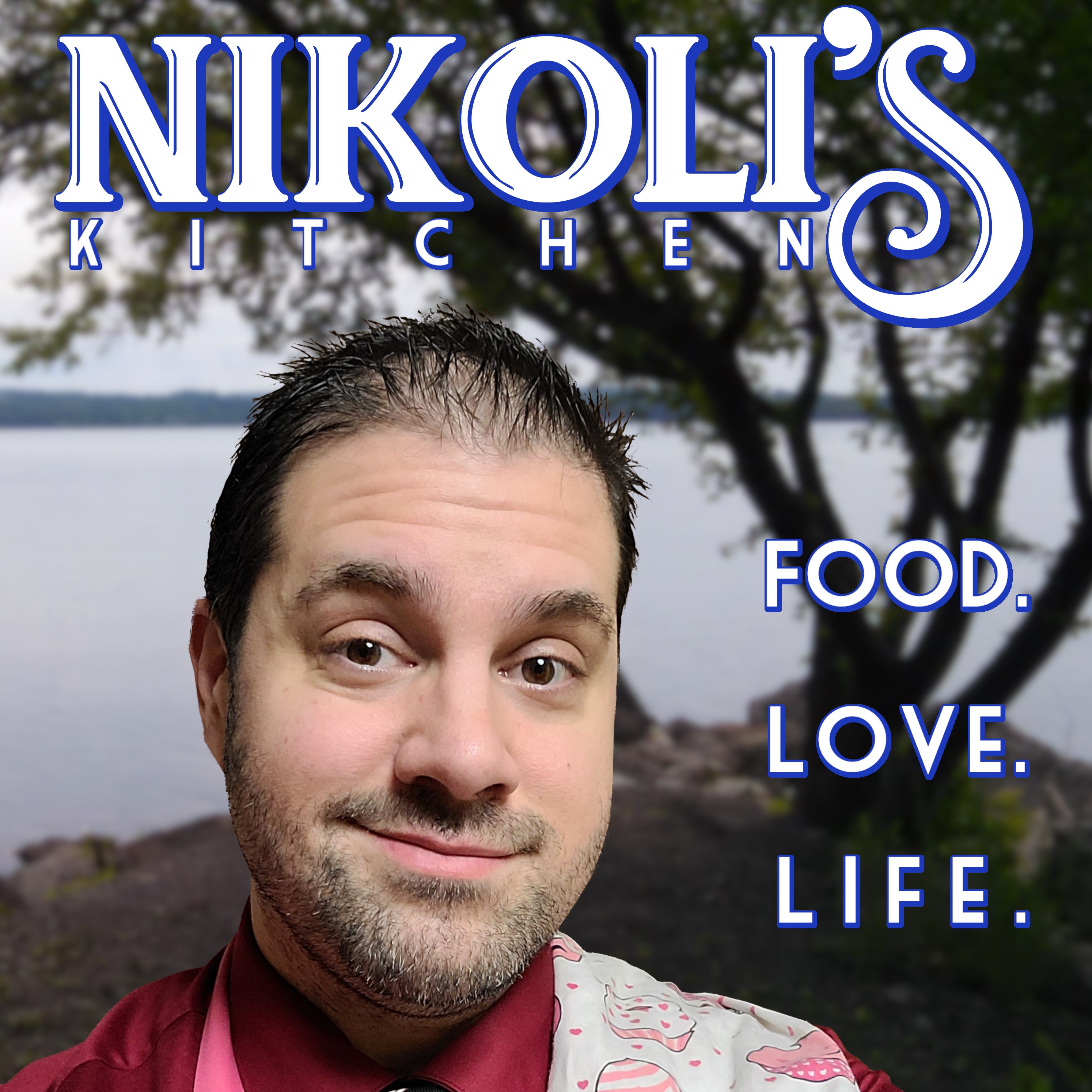 Welcome everyone! This show is all about my journey of positivity and scratch-made food, inside the kitchen and out. I'm not a chef, I'm just someone extremely passionate about food and trying to make the world a better place, one dish at a time. Every episode, I'll talk about what's happening in my world to try to help people, and I'll share a featured recipe for you to make at home. Thank you so much for listening, and thank you so much for coming on this journey with me.
Episodes
Wednesday Sep 14, 2022
Wednesday Sep 14, 2022
Hello everyone and welcome back to another episode of Nikoli's Kitchen! This week, we're talking about surviving versus living and in the back half of the show, I talk about making homemade ramen from scratch! 
This month's charity stream will benefit the American Foundation for Suicide Prevention. Tune in Sept 28th at 5 PM EST at https://twitch.tv/nikoliskitchen for games, food, and fun as we stream to raise money and awareness for AFSP. 
Featured Recipe for this Episode
~| The most important thing I can note here is PREP, PREP, PREP. Prepare *EVERYTHING* that this dish requires ahead of time because there are a lot of things that need to get done. |~ 
Ramen Base-
5 c homemade chicken stock
1 sweet onion, sliced
8 cloves of garlic, minced
2-inch piece of ginger, finely grated
1 T olive oil
1/4 c dark soy sauce
1/4 c mirin
1/4 c rice vinegar
1 t sesame oil
1 T fish sauce

Add your olive oil to a large Dutch oven or stock pot at mid heat. 
Add your onion, garlic, and ginger and cook for a few minutes, stirring frequently so nothing burns. 
Add your soy sauce, mirin, rice vinegar, and fish sauce and bring to a simmer for a minute or so. 
Add your chicken stock and allow to come to a boil. 
Let this come to a simmer and reduce your heat to mid-low, allowing it to simmer and reduce for 45 to 60 minutes. You really want to let this concentrate to build a good depth of flavor.
Add your sesame oil here (optional).
Once your broth reaches your desired taste, turn off the heat until you're ready to build your bowl.

Marinade- 
8 boneless skinless chicken thighs, cut into large chunks
1/4 c low-sodium soy sauce
1/4 c honey
8 cloves garlic (minced)

Marinate your chicken for 8 hours or up to overnight. 
Remove from the marinade, shaking off any excess marinade, and place on a tray lined with paper towel. Get off all the excess marinade you can. 

Batter-
1/3 c AP flour
2/3 c rice flour
1/3 c corn starch
1/2 c water, more or less to desired consistency
1 gallon vegetable or preferred frying oil
Deep frying thermometer (if available)

Combine your flours and cornstarch together in a bowl and whisk until combined.
Add your water in, stirring constantly until this has a nice, thick, batter-like consistency.
Add your chicken to the bowl. 
Stir until well-combined and the chicken is well-coated (the batter will be so thick it will not have an issue). 
Once your oil hits 350° or once a drop of batter dropped in pops back to the surface and floats after 1-2 seconds, it is ready. 
Add your chicken in batches (I did three), cooking it for about 2-3 minutes, being sure to break up any chicken that is clumped together (add it a piece at a time to save yourself the trouble of unsticking them later). 
Remove the chicken and rest. Heat your oil to 375°.
Add all of the chicken to your oil and cook for another 2-3 minutes or until it is a very crispy golden brown.
Remove the oil from the heat and place your chicken on a paper towel-lined platter or a drying rack to rest.

Chicken Glaze-
1 c honey
1/2 c low-sodium soy sauce
1 t sesame oil
sesame seeds (optional)

Combine your honey, soy sauce, and sesame oil in a small saucepan.
Heat over medium heat until it starts to boil, stirring frequently. 
Remove from the heat.
Add your chicken to a large bowl and coat with the glaze, tossing it to make sure it is well-coated.
Sprinkle with sesame seeds as desired.

Additions-
1/2 c scallions, finely chopped
1 c shitake mushrooms, sliced
Sesame seeds (optional)
2 c baby spinach, roughly chopped
Wonton strips 
Soft-boiled eggs

~| For the wontons I followed the recipe at https://www.curiouscuisiniere.com/wonton-wrappers/, but this will make a LOT more than you need for this recipe. I'd use 1/4 of the finished dough or less, and freeze the remainder for another use in the future. Roll your dough as thin as you can in cornstarch and cut into strips of your desired length (I did about 2"). Fry at 350° for a minute or so until golden brown. |~ 
Bring a pot of water to a boil. 
Add cold eggs and cook for 6.5 minutes.
Remove eggs to a bowl of ice water immediately to stop them from cooking. 
Peel the eggs and slice in half.

Noodles-
1 package (9.5 oz) Soba Noodles
Prepare noodles according to package directions. 

To build your ramen bowl, heat your broth back to boiling.
Add your noodles to the bowl, then add broth until the noodles are covered.
Add your chicken and any of the additions you prepared for your ramen bowl. 
Important Links
(All links open in a new window)
Main Website
Subscribe on Patreon!
Livestream for the Cure
Join my Discord Community!
Podcast RSS Feed
Like my Facebook Page!
Follow me on Twitter!
Follow me on Instagram!
Join my Facebook Group!
Subscribe to my YouTube Channel!
Follow me on Twitch!
Listen on

Apple Podcasts
Goodpods
Spotify
Google Podcasts
Pandora
TuneIn Radio
iHeart Radio
Spreaker
PlayerFM
Stitcher
Podchaser
Guest Appearances
I was honored to sit down with Ashlee of the Rabbit Ears TV Podcast again to talk about all things Big Little Lies! Check it out at https://www.netflixnswill.com/rabbitears/2021/8/31/big-little-lies.
I had the amazing opportunity to sit down with Em of Verbal Diorama to talk about Anchorman: The Legend of Ron Burgandy and we had a blast. Please tune in at https://www.verbaldiorama.com/episode/anchorman-the-legend-of-ron-burgundy!
I let out a massive ROAR with my boys on Epic Film Guys as we sat down to dissect/destroy Jurassic World: Dominion! https://epicfilmguys.podbean.com/e/efg-classic-jurassic-world-dominion-review/.
I had the privilege of sitting down with Brendan of Unchefed to talk about food, mental health, and life. Check out this great conversation at https://podcasts.apple.com/us/podcast/i-love-food-nicholas-haskins-from-nikolis-kitchen/id1578898329?i=1000568984881!
Credits
Intro "Midnight in Carmel" by Wendy Marcini. Licensed from Epidemic Sound. Check out her amazing music at https://open.spotify.com/artist/4CaTfk4pRkpA8A9gXamYg2.
"Aeon," "June," and "Ali" by Lucas King. Find this and more amazing music by Lucas and subscribe to him on YouTube by visiting https://www.youtube.com/user/LucasKingPiano!
Outro "The Climb" from Music for Makers. Sign up and get a royalty-free song delivered to your inbox every Monday at www.musicformakers.com!
Other music in this episode licensed from Epidemic Sound. Learn more and sign up for a free trial with access to thousands of songs at https://www.epidemicsound.com/.
Track Listing:

"Ambient Sun" by Cerulean Skies.
"Fight to Win" by Sven Karlsson.