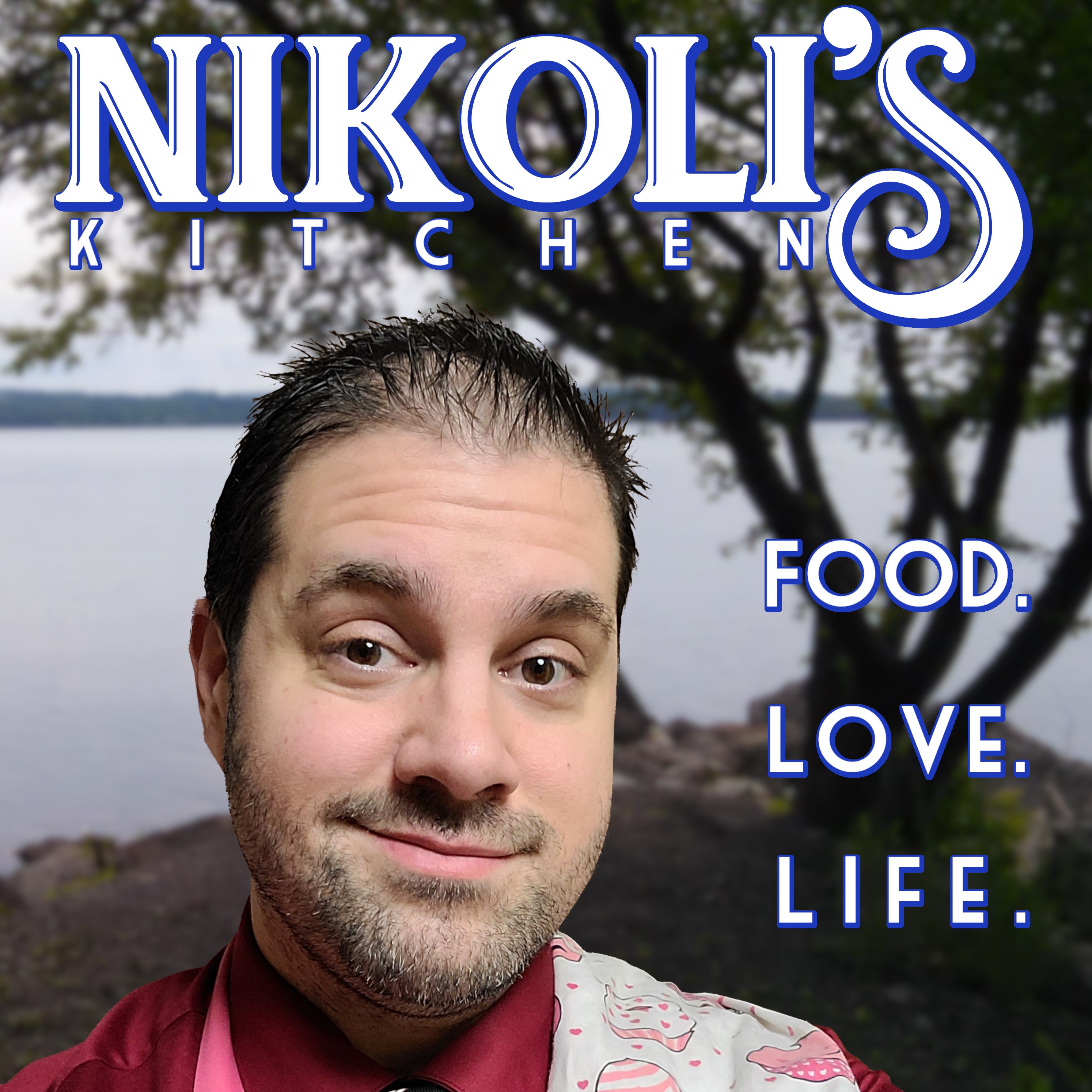 Welcome everyone! This show is all about my journey of positivity and scratch-made food, inside the kitchen and out. I'm not a chef, I'm just someone extremely passionate about food and trying to make the world a better place, one dish at a time. Every episode, I'll talk about what's happening in my world to try to help people, and I'll share a featured recipe for you to make at home. Thank you so much for listening, and thank you so much for coming on this journey with me.
Episodes
Wednesday Sep 07, 2022
Wednesday Sep 07, 2022
Hello and welcome back to another new episode of Nikoli's Kitchen! In this week's episode I follow up on my progress from two weeks ago of living an intentional life, and about a quick pasta dish inspired by my love of leftovers, which I don't talk about enough on the show.
In positivity, spurred by current events, I talk about living life for others and why I find it so frustrating that so many only seem to care about themselves. Thank you so much for listening!
Featured Recipe for this Episode
1/2 portion of homemade pasta or 4 servings of normal pasta
1 pint cherry tomatoes
1 c fresh basil, chopped
10 cloves of garlic, minced
1 c Mexican crema
Juice & zest of 1 lemon
1 t white sugar
1/2 c white wine
Salt and pepper (to taste)
1 c freshly-shredded parmesan cheese

Cook and prepare your pasta to al dente while you prepare the sauce. Boil salted water and cook according to package directions, or, for homemade pasta, you'll want to do it right at the end.
Drizzle a little olive oil in a large skillet and heat over mid-high heat.
Add your cherry tomatoes and cook until they are blistered and caramelized, 5-7 minutes.
Add your basil, lemon zest, and garlic and cook for 1 minute, stirring continuously to not let them burn (you just want to bring out those oils and let them start to open up). 
Reduce heat to mid and de-glaze the pan with your white wine.
Add lemon juice and sugar, continuing to cook. Stir everything together and reduce by half. 
Add your Mexican crema. Let this begin to simmer to come together and stir to combine everything well.
Season to taste, being mindful of the salt since you'll still be adding parmesan cheese.
Add your pasta and parmesan cheese, tossing until well-coated. This only needs a minute or two to finish coming together.
Add any other seasoning you may need.
Serve immediately.
Important Links
(All links open in a new window)
Main Website
Subscribe on Patreon!
Livestream for the Cure
Join my Discord Community!
Podcast RSS Feed
Like my Facebook Page!
Follow me on Twitter!
Follow me on Instagram!
Join my Facebook Group!
Subscribe to my YouTube Channel!
Follow me on Twitch!
Listen on

Apple Podcasts
Goodpods
Spotify
Google Podcasts
Pandora
TuneIn Radio
iHeart Radio
Spreaker
PlayerFM
Stitcher
Podchaser
Guest Appearances
I was honored to sit down with Ashlee of the Rabbit Ears TV Podcast again to talk about all things Big Little Lies! Check it out at https://www.netflixnswill.com/rabbitears/2021/8/31/big-little-lies.
I had the amazing opportunity to sit down with Em of Verbal Diorama to talk about Anchorman: The Legend of Ron Burgandy and we had a blast. Please tune in at https://www.verbaldiorama.com/episode/anchorman-the-legend-of-ron-burgundy!
I let out a massive ROAR with my boys on Epic Film Guys as we sat down to dissect/destroy Jurassic World: Dominion! https://epicfilmguys.podbean.com/e/efg-classic-jurassic-world-dominion-review/.
I had the privilege of sitting down with Brendan of Unchefed to talk about food, mental health, and life. Check out this great conversation at https://podcasts.apple.com/us/podcast/i-love-food-nicholas-haskins-from-nikolis-kitchen/id1578898329?i=1000568984881!
Credits
Intro "Midnight in Carmel" by Wendy Marcini. Licensed from Epidemic Sound. Check out her amazing music at https://open.spotify.com/artist/4CaTfk4pRkpA8A9gXamYg2.
Outro "The Climb" from Music for Makers. Sign up and get a royalty-free song delivered to your inbox every Monday at www.musicformakers.com!
Other music in this episode licensed from Epidemic Sound. Learn more and sign up for a free trial with access to thousands of songs at https://www.epidemicsound.com/.
Track Listing:

"Fly By Night," and "Inner Vision" by Wendy Marcini.
"Contemplation" by Magnus Ludvigsson.
"Cluster One" by Hampus Naeselius.