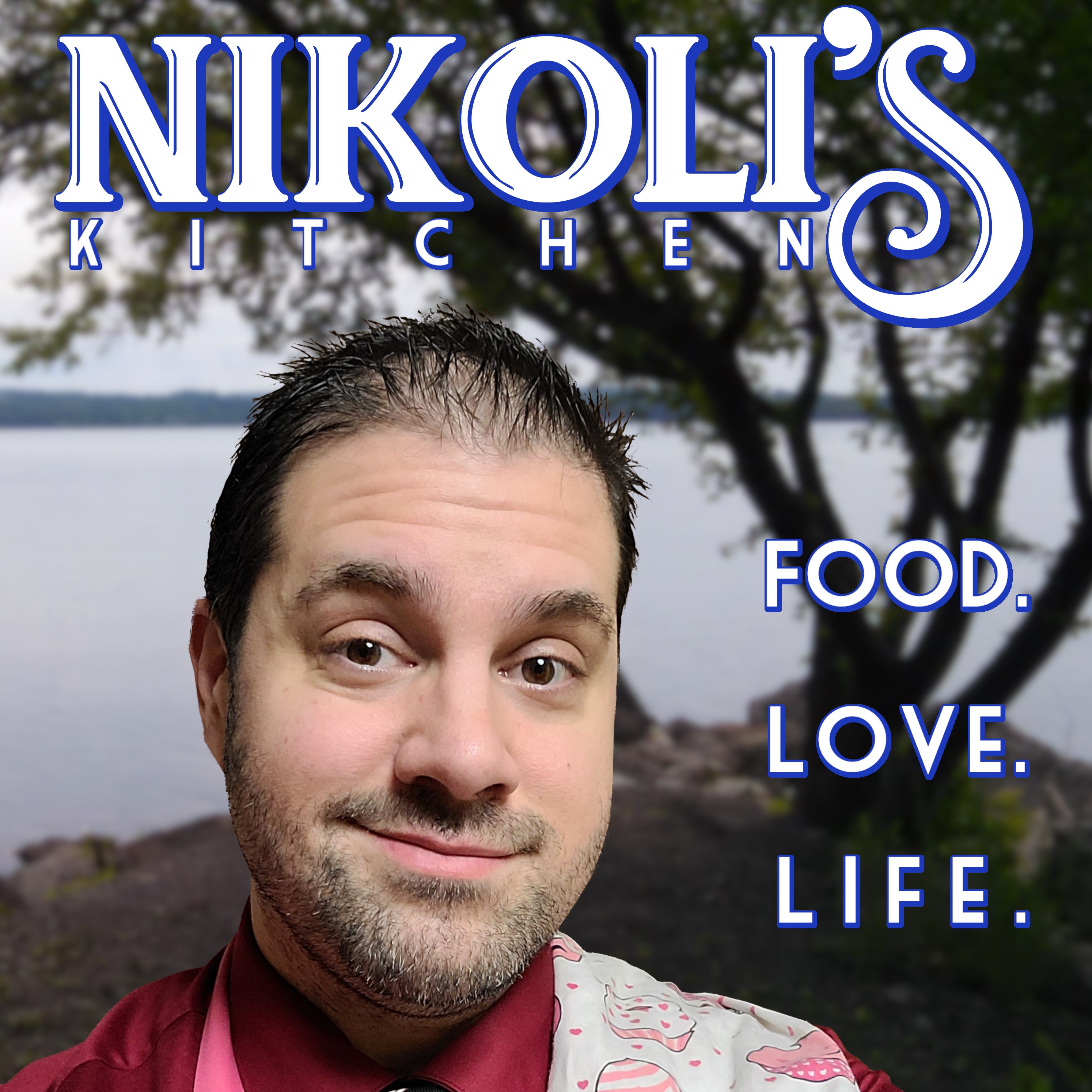 Welcome everyone! This show is all about my journey of positivity and scratch-made food, inside the kitchen and out. I'm not a chef, I'm just someone extremely passionate about food and trying to make the world a better place, one dish at a time. Every episode, I'll talk about what's happening in my world to try to help people, and I'll share a featured recipe for you to make at home. Thank you so much for listening, and thank you so much for coming on this journey with me.
Episodes
Wednesday Aug 10, 2022
Wednesday Aug 10, 2022
Hello everyone and welcome back to another brand new episode of Nikoli's Kitchen! This week I'm talking about this absolutely amazing and fresh lemon garlic pasta dish stuffed with scallops and shrimp! With every element freshly made, this is one bite that you have to taste to believe. I also talk about resetting for the day and focusing on making the world a better place.
Featured Recipe for this Episode
Homemade Pasta
1/2 c semolina flour
1/3 c + 2 T all-purpose flour
4 egg yolks
1-1/2 T olive oil
1/4 to 1/2 c water

Mound your semolina and all-purpose flours on the countertop and create a well in the center. The well should be wide enough and tall enough to hold all of your eggs and liquids.
Add the egg yolks, olive oil, and half of the water (reserving the rest if you need it).
Using a fork, begin stirring the mixture in the center, pulling in flour as you go to incorporate it. Once you reach a point where this becomes too difficult, remove the fork and begin cutting the remaining flour into your dough with your hands. 
Continue working the dough to incorporate all of the flour. If it is too dry or flaky, dribble in the remaining water a little at a time as you work it until it reaches the right consistency, which should be tacky but not sticky. If it is too sticky, sprinkle in extra AP flour.
Once the dough has formed, knead it by pressing it out with the heel of your hand for 8-10 minutes or until the dough feels silky smooth.
Wrap the dough in plastic wrap and rest for 30-60 minutes.
Lightly flour your countertop.
Cut the dough in thirds, keeping the remainder wrapped until you are ready to use it. 
Using a rolling pin, continue working the dough and roll it out into a long rectangular shape. Turn it over and continue working it as necessary. You want the dough to be relatively thin.
Once rolled out to desired thickness, lightly dust the flattened dough with flour and fold it over itself over and over in 3" sections or so.
Using a sharp knife, cut very small strips out of the dough and unwrap them to make your pasta noodles.
Repeat using the remainder of your dough.
Hang your dough from a pasta rack or something to rest while you prepare the rest of the dish.

Lemon Garlic Cream Sauce
2 c chicken stock
1 c white wine
Juice of 2 lemons (second lemon is optional)
6 cloves of garlic, finely minced
2 T fresh parsley, finely chopped
1 red onion, finely chopped
4 T unsalted butter
2/3 c heavy cream
Salt and Pepper

Add your red onion to a skillet at mid-high. 
Let this cook for just a few moments, sprinkling on some salt. 
Once you've let this perfume for a bit, add your garlic and parsley. 
Cook this for maybe 30 seconds, stirring constantly; don't let it burn!
Deglaze the pan with white wine and your chicken stock.
Add the juice of one lemon and cook for approx 15 minutes, or until the liquid is reduced to only about 1 cup. Remove from heat.
OPTIONAL: Add juice from the other lemon, stirring to combine. 
Add your butter and stir until the butter is melted and incorporated, then add your cream and stir to incorporate that.
Return to heat for only a minute and continue stirring; you don't want the mixture to come to a boil, it just needs to come together (you should see it starting to simmer along the edge of the pan).
Remove from heat.

Scallops and Shrimp
1/2 lb sea scallops
1/2 lb shrimp
1 lemon, halved
Salt
Pepper
Smoked paprika
Olive oil

For the scallops, place on a paper towel and pat them dry. 
Heat your olive oil in a large skillet at mid-high heat until smoking hot.
Season one side of the scallops with salt, pepper, and smoked paprika.
Add to the pan in a clock-face fashion, being careful not to overcrowd the pan.
After 90 seconds, begin turning in the same order you added them to the pan. 
After another 90 seconds, squeeze 1/2 lemon into the skillet and remove from the heat, tossing the scallops in the lemon juice.
Tip the scallops onto a paper towel to stop them cooking.
For the shrimp, season with salt, pepper, and smoked paprika.
Heat olive oil in a large skillet at mid heat.
Add your shrimp and cook through, 2-3 minutes, turning halfway through.

Making the dish
Heat a large pot of water at high heat and add salt to taste.
Once the water reaches a rolling boil, drop your fresh pasta in. It will only take a minutes or two to cook, so make sure you stand ready to remove it.
Remove the pasta when it is still slightly al dente.
Return your pan with the lemon garlic cream sauce to the stove and turn heat to mid.
Add your pasta and seafood, stirring/tossing in the sauce until everything is well-coated and covered.
Remove from heat and serve with fresh parsley over the top.
Important Links
(All links open in a new window)
Main Website
Subscribe on Patreon!
Livestream for the Cure
Join my Discord Community!
Podcast RSS Feed
Like my Facebook Page!
Follow me on Twitter!
Follow me on Instagram!
Join my Facebook Group!
Subscribe to my YouTube Channel!
Follow me on Twitch!
Listen on

Apple Podcasts
Goodpods
Spotify
Google Podcasts
Pandora
TuneIn Radio
iHeart Radio
Spreaker
PlayerFM
Stitcher
Podchaser
Guest Appearances
I was honored to sit down with Ashlee of the Rabbit Ears TV Podcast again to talk about all things Big Little Lies! Check it out at https://www.netflixnswill.com/rabbitears/2021/8/31/big-little-lies.
I had the amazing opportunity to sit down with Em of Verbal Diorama to talk about Anchorman: The Legend of Ron Burgandy and we had a blast. Please tune in at https://www.verbaldiorama.com/episode/anchorman-the-legend-of-ron-burgundy!
I let out a massive ROAR with my boys on Epic Film Guys as we sat down to dissect/destroy Jurassic World: Dominion! https://epicfilmguys.podbean.com/e/efg-classic-jurassic-world-dominion-review/.
I had the privilege of sitting down with Brendan of Unchefed to talk about food, mental health, and life. Check out this great conversation at https://podcasts.apple.com/us/podcast/i-love-food-nicholas-haskins-from-nikolis-kitchen/id1578898329?i=1000568984881!
Credits
Intro "Midnight in Carmel" by Wendy Marcini. Licensed from Epidemic Sound. Check out her amazing music at https://open.spotify.com/artist/4CaTfk4pRkpA8A9gXamYg2.
Outro "The Climb" from Music for Makers. Sign up and get a royalty-free song delivered to your inbox every Monday at www.musicformakers.com!
Other music in this episode licensed from Epidemic Sound. Learn more and sign up for a free trial with access to thousands of songs at https://www.epidemicsound.com/.
Track Listing:
"When Hope Returns" by Erasmus Talbot.
"Dark Turns to Light," "In Shadow of the Stars," and "Behind the Moon" by Hampus Naeselius.
"Lost Thoughts" by Hanna Lindgren.