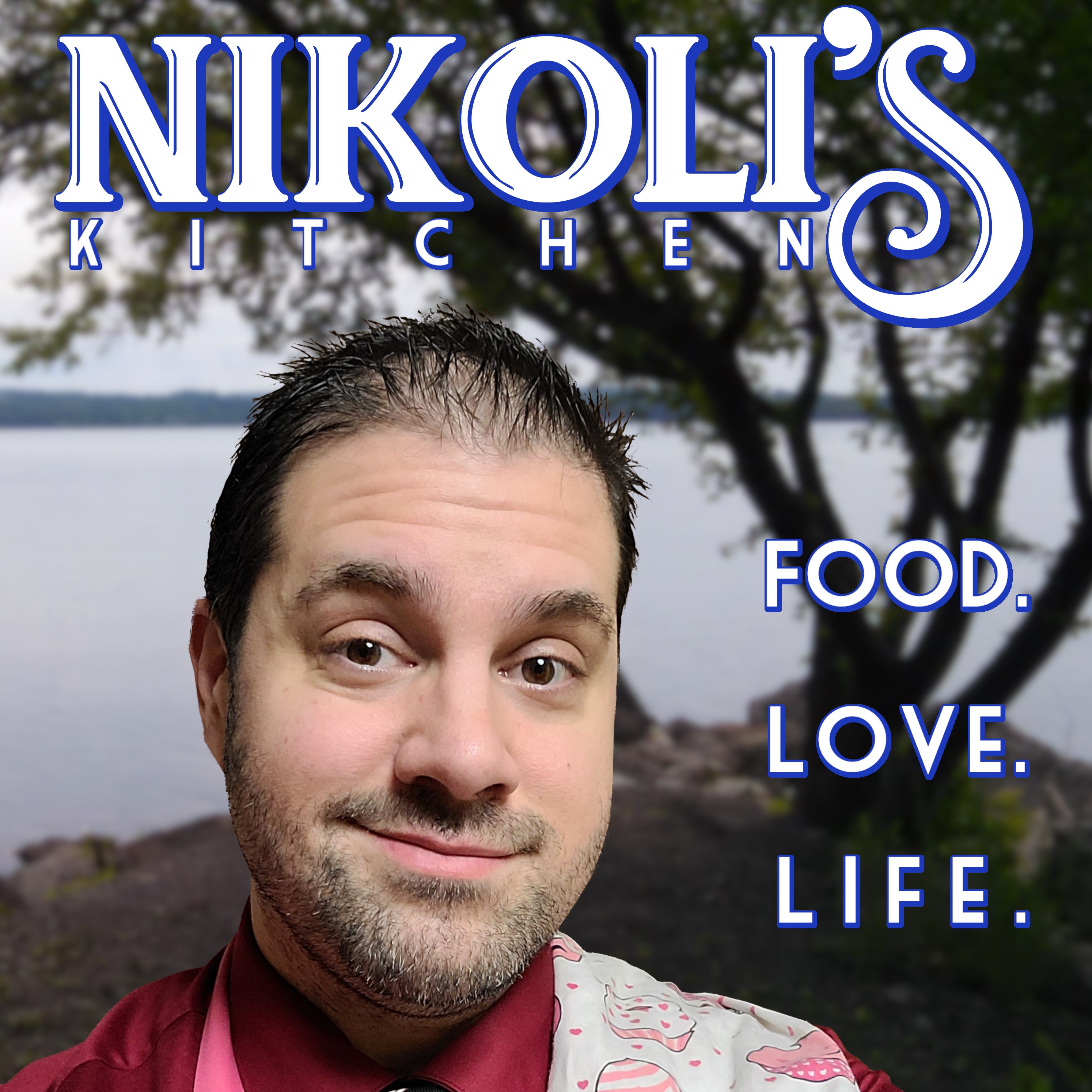 Welcome everyone! This show is all about my journey of positivity and scratch-made food, inside the kitchen and out. I'm not a chef, I'm just someone extremely passionate about food and trying to make the world a better place, one dish at a time. Every episode, I'll talk about what's happening in my world to try to help people, and I'll share a featured recipe for you to make at home. Thank you so much for listening, and thank you so much for coming on this journey with me.
Episodes
Wednesday Jul 27, 2022
Wednesday Jul 27, 2022
Hi and welcome back to another new episode of Nikoli's Kitchen! This week on the show, inspired by a stop in Erie on our way home from a vacation to Cincinnati, I am making quesabirria for the first time ever! These delectable tacos are packed with INCREDIBLE flavor! I also share some thoughts as I finish another circuit around the sun on my 42nd birthday. Thank you so much for listening!
Featured Recipe for this Episode
Birria
3 lbs chuck roast
2 lbs short rib
Salt, pepper, smoked paprika (for seasoning your meat)
4 dried guajillo chiles
4 dried ancho chiles
1 large white onion, finely dice 1/4, rest large chunks
2 carrots, peeled, then halved and then quartered
1 bulb garlic, smashed
6 roma tomatoes, quartered
Olive Oil
1 T smoked paprika
1 t chipotle chili powder
1 t cayenne pepper
1 t chili powder
2 t oregano
3 t cumin
2 T salt
1 T black pepper
1 c vegetable stock
1.5 c beef stock
2 c water
1 T white vinegar
1 cinnamon stick
3 bay leaves

Remove your meat from the fridge and let it start to warm up to room temperature a bit.
Boil 6 cups of water in a pot.
While you're bringing your water to a boil, toast your chiles in a dry skillet for a couple minutes per side to bring some oil out and start developing the flavors.
Add the chiles to a large bowl and pour the boiled water over them.
Set aside for 15-20 minutes or until they have rehydrated. Once they have done so, de-stem them and remove the seeds (unless you want to keep some heat in there, then keep the seeds!).
While your peppers hydrate and your meat starts coming toward room temperature, prepare your other ingredients. IMPORTANT: Quarter your white onion and finely dice it, then store it in the fridge. You'll need this for building tacos later.
Combine your smoked paprika, chipotle chili, chili powder, oregano, cumin, salt, and pepper in a bowl.
Prepare your meat by cutting it into equally-sized chunks. My short ribs I left as-is, but I quartered my chuck roast.
Pat your meat dry, then season liberally with salt, pepper, and smoked paprika.
Drizzle some olive oil in a large Dutch oven and heat over mid-high.
When the oil is good and hot, add your meat in batches and hard sear it on all sides (let the heat hit the meat!!!). 
Remove your meat and reduce the heat to medium.
Preheat the oven to 350°.
Add your onion, garlic, and carrots. 
Add a sprinkle of salt here and cook for 2-3 minutes or until they start to brown and get a little color. 
Add your dry spices and let them cook for a minute to bring out the flavors. 
Add your tomatoes and cook for 2-3 minutes.
Deglaze the pan with your beef stock and vinegar, scraping up all those flavorful bits stuck to the bottom.
Pour the contents of the pan into a large blender.
Add your rehydrated peppers to the blender. 
Blend everything together until it is smooth.
Return your meat to the Dutch oven then pour over the sauce.
Add your bay leaves, cinnamon stick, and your water and vegetable stock.
Cover and bake in the oven for about 4 hours, or until the meat is fall apart tender.
Remove from the oven and remove your rib bones, cinnamon stick, and bay leaves.
Spoon as much of the fat and oil off the top layer as you can and reserve for frying your tortillas. Because I used too little liquid in my braise I had very little- if this happens to you it's okay. I just added a couple tablespoons of corn oil to some of the braising liquid and used that to fry the tortillas.
Remove the meat to a large bowl and shred with two forks.

Tortillas
~| This recipe is from https://www.gimmesomeoven.com/homemade-corn-tortillas |~
2 c corn flour (masa harina)
1-1/2 to 2 c hot water
2 t chili lime sea salt

IMPORTANT: These can be made ahead of time since you'll be frying them again when you make the tacos.
Add your corn flour and sea salt to a large bowl and whisk to combine.
Add 1 c of hot water and begin stirring together. 
Dribble in additional water and stir until your dough comes together and forms a ball; it will have roughly the consistently of clay or play dough.
Cover the bowl with a damp paper towel and rest for 10 minutes.
Flatten your dough into a rough rectangle on your countertop about 1" thick.
Using a knife or dough cutter, cut into 12 equal pieces and cover with a damp table cloth.
Heat a cast iron skillet over mid-high heat.
Roll out your dough between pieces of parchment paper, or use a tortilla press to press them out.
Cook for 45-60 seconds per side in the skillet and remove from the heat. 

Taco Time!
2 c oaxaca cheese, shredded
1 c cotija cheese, crumbled
1 c cilantro, chopped
1/4 white onion, finely diced (from above)
Tortillas
Birria 
Reserved oil
Braising liquid

Brush your tortillas on both sides with the reserved oil/fat (or as noted above).
Place in a skillet at medium heat (I used an electric flattop so I could do several at once). 
Add your oaxaca cheese, then top with the shredded birria (be careful you don't overstuff these). 
Top with cilantro, onion, and cotija cheese.
Once your oaxaca cheese is melty, fold it into a taco (this worked better for me folding the meat and cheese side over, and not trying to fold the empty half over). Flip and finish on the other side- this will help your taco come together.
Serve with a bowl of your braising liquid as a jus for dipping, adding additional onion and cilantro to taste.
Important Links
(All links open in a new window)
Main Website
Subscribe on Patreon!
Livestream for the Cure
Join my Discord Community!
Podcast RSS Feed
Like my Facebook Page!
Follow me on Twitter!
Follow me on Instagram!
Join my Facebook Group!
Subscribe to my YouTube Channel!
Follow me on Twitch!
Listen on

Apple Podcasts
Goodpods
Spotify
Google Podcasts
Pandora
TuneIn Radio
iHeart Radio
Spreaker
PlayerFM
Stitcher
Podchaser
Guest Appearances
I was honored to sit down with Ashlee of the Rabbit Ears TV Podcast again to talk about all things Big Little Lies! Check it out at https://www.netflixnswill.com/rabbitears/2021/8/31/big-little-lies.
I had the amazing opportunity to sit down with Em of Verbal Diorama to talk about Anchorman: The Legend of Ron Burgandy and we had a blast. Please tune in at https://www.verbaldiorama.com/episode/anchorman-the-legend-of-ron-burgundy!
I let out a massive ROAR with my boys on Epic Film Guys as we sat down to dissect/destroy Jurassic World: Dominion! https://epicfilmguys.podbean.com/e/efg-classic-jurassic-world-dominion-review/.
I had the privilege of sitting down with Brendan of Unchefed to talk about food, mental health, and life. Check out this great conversation at https://podcasts.apple.com/us/podcast/i-love-food-nicholas-haskins-from-nikolis-kitchen/id1578898329?i=1000568984881!
Credits
Intro "Midnight in Carmel" by Wendy Marcini. Licensed from Epidemic Sound. Check out her amazing music at https://open.spotify.com/artist/4CaTfk4pRkpA8A9gXamYg2.
Outro "The Climb" from Music for Makers. Sign up and get a royalty-free song delivered to your inbox every Monday at www.musicformakers.com!
Other music in this episode licensed from Epidemic Sound. Learn more and sign up for a free trial with access to thousands of songs at https://www.epidemicsound.com/.
Track Listing:
"Midnight Swing" by Jules Gaia.
"Bringing Hope" by Gold in June.
"Faultless Poems," "A Single Gentle Raindrop," and "Tomorrow will Save Us" by Rand Aldo.