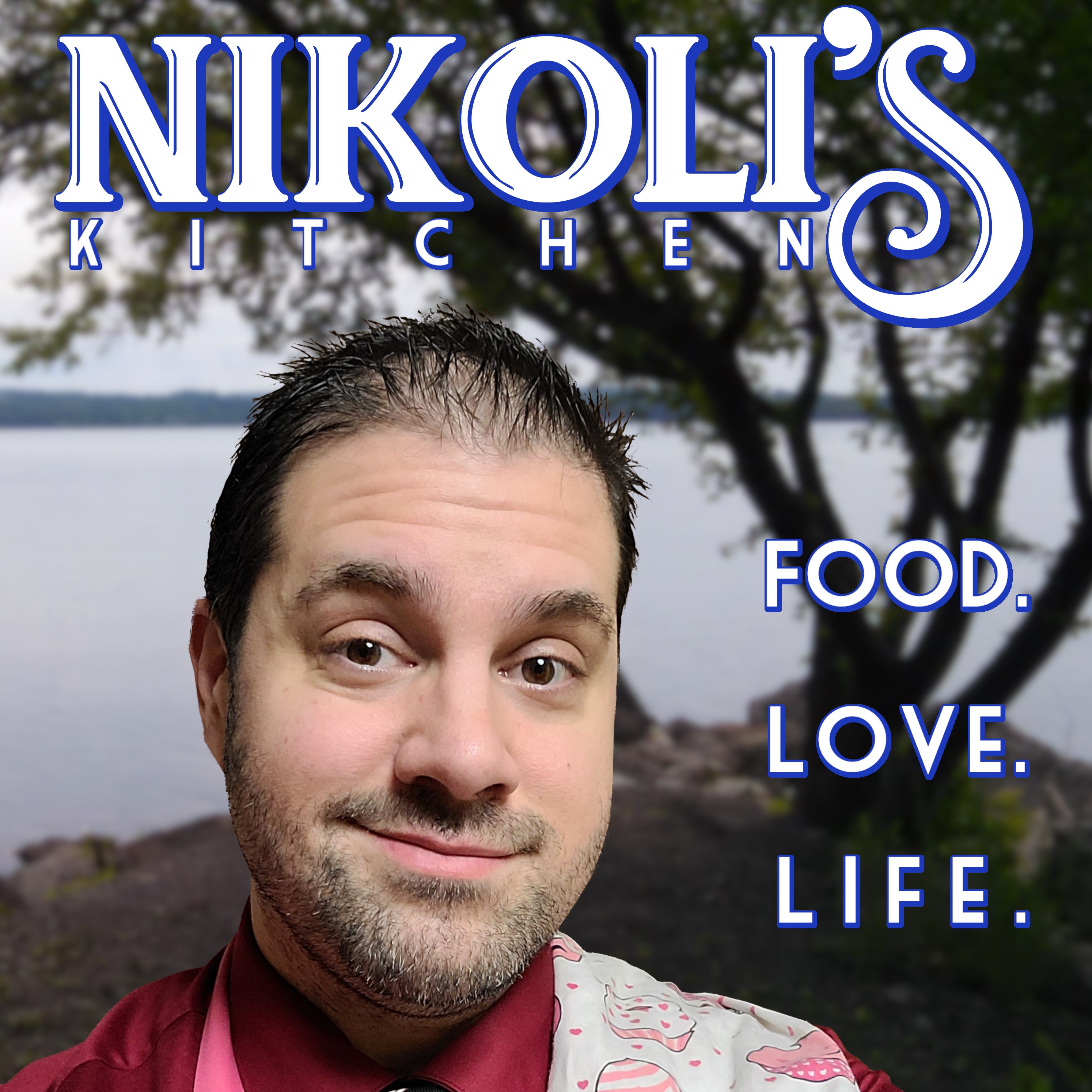 Welcome everyone! This show is all about my journey of positivity and scratch-made food, inside the kitchen and out. I'm not a chef, I'm just someone extremely passionate about food and trying to make the world a better place, one dish at a time. Every episode, I'll talk about what's happening in my world to try to help people, and I'll share a featured recipe for you to make at home. Thank you so much for listening, and thank you so much for coming on this journey with me.
Episodes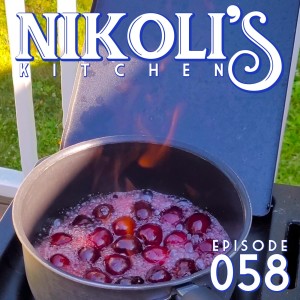 Wednesday Jul 13, 2022
Wednesday Jul 13, 2022
Hello everyone and welcome back to another brand new episode of Nikoli's Kitchen! This week, a photo from my memories pops up and reminds me how precious time is, and how important living every day to the fullest is. Then on the back half of that, I play with fire, literally, as I cook down some cherries in bourbon to make a decadent syrup. 
Check out the YouTube short showing me making this syrup at https://www.youtube.com/watch?v=o3Qf5pO9l1k!
Featured Recipe for this Episode
2 c cherries, pitted
1 c bourbon
1 c water
1/4 c sugar
1/2 c 100% maple syrup

Add your bourbon and cherries into a medium saucepan.
~| NOTE: Only do this next step in a safe area- outdoors or with a large enough ceiling and ventilation system. I did mine on my grill's side burner. |~
Heat the bourbon & cherries over mid-high heat. Tip the pan to the flame to burn off the alcohol.
Reduce until the bourbon is thick and syrupy and mostly cooked off.
Add water and sugar (sugar can be omitted, this would be especially great with tart/sour cherries too). 
Cook down for 7-10 minutes, or until the syrup begins to "foam." You will note a clear change in the cooking process from simmering/boiling to it starting to foam up. This means your liquid is getting saturated with the sugars and you don't want it to burn.
Add maple syrup and cook for another minute. 
Remove from the heat and strain through a mesh sieve (I have an old wine decanter top for this). 
Bottle and refrigerate.
Important Links
(All links open in a new window)
Main Website
Subscribe on Patreon!
Livestream for the Cure
Join my Discord Community!
Podcast RSS Feed
Like my Facebook Page!
Follow me on Twitter!
Follow me on Instagram!
Join my Facebook Group!
Subscribe to my YouTube Channel!
Follow me on Twitch!
Listen on

Apple Podcasts
Goodpods
Spotify
Google Podcasts
Pandora
TuneIn Radio
iHeart Radio
Spreaker
PlayerFM
Stitcher
Podchaser
Guest Appearances
I was honored to sit down with Ashlee of the Rabbit Ears TV Podcast again to talk about all things Big Little Lies! Check it out at https://www.netflixnswill.com/rabbitears/2021/8/31/big-little-lies.
I had the amazing opportunity to sit down with Em of Verbal Diorama to talk about Anchorman: The Legend of Ron Burgandy and we had a blast. Please tune in at https://www.verbaldiorama.com/episode/anchorman-the-legend-of-ron-burgundy!
I let out a massive ROAR with my boys on Epic Film Guys as we sat down to dissect/destroy Jurassic World: Dominion! https://epicfilmguys.podbean.com/e/efg-classic-jurassic-world-dominion-review/.
I had the privilege of sitting down with Brendan of Unchefed to talk about food, mental health, and life. Check out this great conversation at https://podcasts.apple.com/us/podcast/i-love-food-nicholas-haskins-from-nikolis-kitchen/id1578898329?i=1000568984881!
Credits
Intro "Midnight in Carmel" by Wendy Marcini. Licensed from Epidemic Sound. Check out her amazing music at https://open.spotify.com/artist/4CaTfk4pRkpA8A9gXamYg2.
Outro "The Climb" from Music for Makers. Sign up and get a royalty-free song delivered to your inbox every Monday at www.musicformakers.com!
Other music in this episode licensed from Epidemic Sound. Learn more and sign up for a free trial with access to thousands of songs at https://www.epidemicsound.com/.
Track Listing:
"Midnight Swing" by Jules Gaia.
"Like a Midnight Song," "Reverie Finale," "In a Distant Future," and "Rose-Colored Faith" by Rand Aldo.