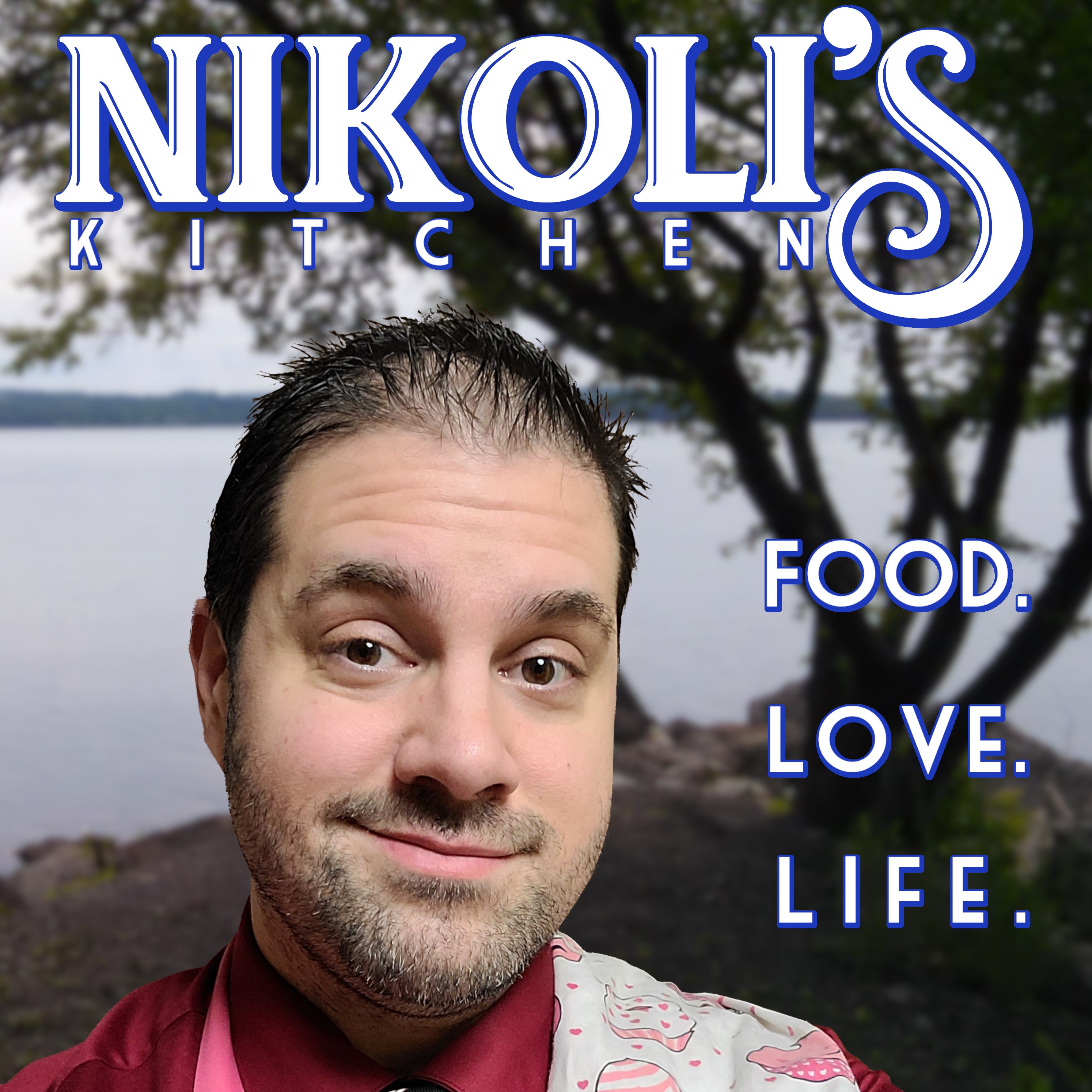 Welcome everyone! This show is all about my journey of positivity and scratch-made food, inside the kitchen and out. I'm not a chef, I'm just someone extremely passionate about food and trying to make the world a better place, one dish at a time. Every episode, I'll talk about what's happening in my world to try to help people, and I'll share a featured recipe for you to make at home. Thank you so much for listening, and thank you so much for coming on this journey with me.
Episodes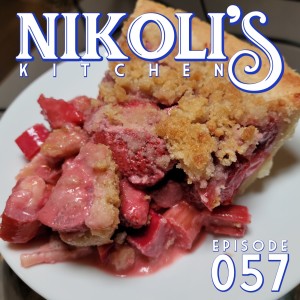 Wednesday Jul 06, 2022
Wednesday Jul 06, 2022
Welcome back everyone to SEASON FOUR of Nikoli's Kitchen! This week we're talking about under-baked strawberry rhubarb pie and about beating myself up a lot in the preceding weeks. The journey continues. Growth never ends. Stop the cycle of negativity and stop beating yourself up for not achieving 100% of everything every single day. And thank you so much for listening!
Featured Recipe for this Episode
Crust (makes two)
3 c all-purpose flour
1/3 c shortening, cut into small cubes and frozen
10 T butter, cut into small cubes and frozen
1-1/2 t salt
1/2 c ice water

~| The key to a great, flaky pie crust is not to touch it with your hands as much as possible. Your fat should be as cold as possible/frozen and put ice cubes in your water so it is ICE cold- and then don't let the heat from your hands warm it up! |~
Cut the shortening and butter into small cubes and freeze them.
Add flour and salt to a food processor.
Add the shortening and butter cubes and pulse until your dough is nice and crumbly.
Dribble in your ice water a little at a time, pulsing as you go until the dough clumps. Do not add more water than you need to or you'll need to correct with flour.
Transfer dough to floured surface and form into a ball. 
Separate the dough into two balls. Flatten into 1" discs.
Wrap the discs tightly in plastic wrap and refrigerate for a couple of hours (you can also freeze them for later use if you don't need the second one now). 

Pie Filling
5 c strawberries, quartered
3 c rhubarb, chopped
2 T light brown sugar (can be omitted)
1/4 t salt
3 T cornstarch

Combine all of the ingredients in a bowl and stir to coat the strawberries and rhubarb well.

Almond Streusel Topping
1/2 c light brown sugar
1 c almond flour
1/2 c unsalted butter, cut into small cubes and frozen
1/4 t salt

Add all ingredients to a food processor and pulse until crumbly.

Making The Pie
Preheat oven to 450°.
Remove dough from the fridge and roll out on a floured surface, working out from the center as you go around. 
Press the dough into a 9" deep-dish pie pan.
Add a few crumbles of the sugar crumb topping into your pie pan.
Add your strawberry rhubarb filling to the pie pan. 
Top with the remainder of the crumb topping.
Bake at 450° for 10 minutes; reduce heat to 350° and bake for an additional 45-50 minutes.
Remove and allow to cool before serving.
~| In the episode I noted that my pie was noticeably underdone in the center; the rhubarb hadn't broken down all the way and was still fibrous and a bit crunchy. It definitely needed more bake time which I believe would have resolved any issues with excess liquid as well. |~
Important Links
(All links open in a new window)
Main Website
Subscribe on Patreon!
Livestream for the Cure
Join my Discord Community!
Podcast RSS Feed
Like my Facebook Page!
Follow me on Twitter!
Follow me on Instagram!
Join my Facebook Group!
Subscribe to my YouTube Channel!
Follow me on Twitch!
Listen on

Apple Podcasts
Goodpods
Spotify
Google Podcasts
Pandora
TuneIn Radio
iHeart Radio
Spreaker
PlayerFM
Stitcher
Podchaser
Guest Appearances
I was honored to sit down with Ashlee of the Rabbit Ears TV Podcast again to talk about all things Big Little Lies! Check it out at https://www.netflixnswill.com/rabbitears/2021/8/31/big-little-lies.
I had the amazing opportunity to sit down with Em of Verbal Diorama to talk about Anchorman: The Legend of Ron Burgandy and we had a blast. Please tune in at https://www.verbaldiorama.com/episode/anchorman-the-legend-of-ron-burgundy!
I let out a massive ROAR with my boys on Epic Film Guys as we sat down to dissect/destroy Jurassic World: Dominion! https://epicfilmguys.podbean.com/e/efg-classic-jurassic-world-dominion-review/.
Credits
Intro "Midnight in Carmel" by Wendy Marcini. Licensed from Epidemic Sound. Check out her amazing music at https://open.spotify.com/artist/4CaTfk4pRkpA8A9gXamYg2.
Outro "The Climb" from Music for Makers. Sign up and get a royalty-free song delivered to your inbox every Monday at www.musicformakers.com!
Other music in this episode licensed from Epidemic Sound. Learn more and sign up for a free trial with access to thousands of songs at https://www.epidemicsound.com/.
Track Listing:
"Langholmen" by Gustav Lundgren.
"Lost Thoughts," "Soft Symphony," and "Letting Go of the Day" by Hanna Lindgren.