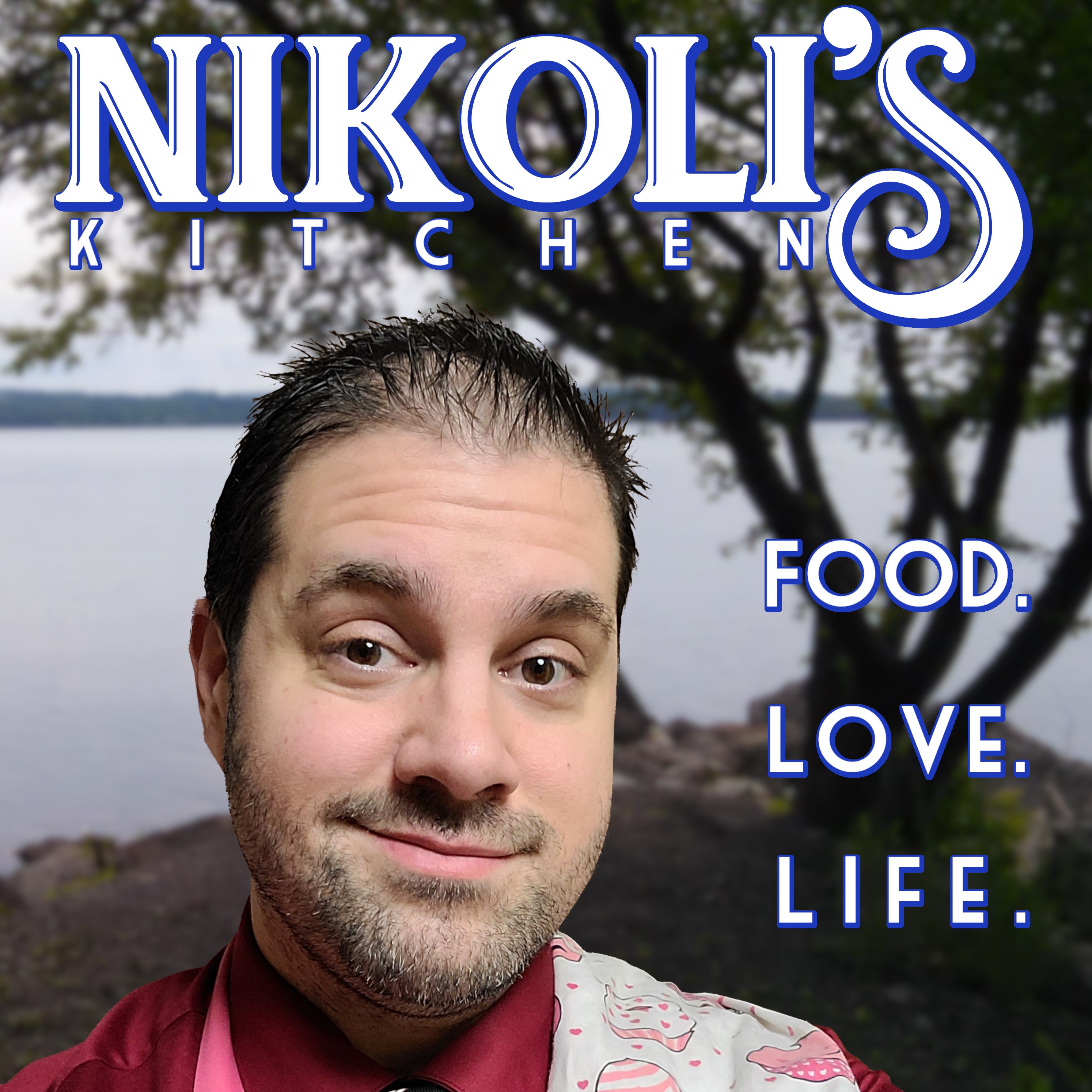 Welcome everyone! This show is all about my journey of positivity and scratch-made food, inside the kitchen and out. I'm not a chef, I'm just someone extremely passionate about food and trying to make the world a better place, one dish at a time. Every episode, I'll talk about what's happening in my world to try to help people, and I'll share a featured recipe for you to make at home. Thank you so much for listening, and thank you so much for coming on this journey with me.
Episodes
Monday May 16, 2022
Monday May 16, 2022
Hello everyone and welcome back to Nikoli's Kitchen- the season three FINALE!! I can't believe we've come this far, and I'm so grateful to all of my amazing listeners for your support. This week on the show I'm talking about blackened fish tacos made with salmon and topped with a delicious pico de gallo... and reading a letter I've written to myself. Thank you all so much for your amazing support. Season 4 should kick off sometime in June, but stay tuned to the feed for plenty of quick bites and short episodes ahead of the premiere. 
The 6th Annual Livestream for the Cure will take place from May 19th - May 21st, as we work with content creators and podcast partners around the world to raise $20,000 for the Cancer Research Institute. This is our sixth year, and over the past five we've raised over $50,000. Please help us add to that total and help us spread the word by sharing promos for the event and information leading up to it. Learn more by visiting livestreamforthecure.com.
Featured Recipe for this Episode
Blackening Seasoning:
2.5 lb Salmon (skin on), portioned
2 T smoked paprika
2 T dark brown sugar
2 T chili powder
1 T chipotle chili powder
2 T salt
2 T black pepper
2 T garlic powder

Combine all ingredients in a large bowl and whisk together. 
Liberally spread half of the seasoning over the flesh of the salmon.
Grill at 375° skin-side down for 8-10 minutes or until your filets release easily from the grill.
Flip the salmon over and remove the skin (it should come off very easily).
Add the remainder of your seasoning.
Grill for an additional 8-10 minutes. Flip again to blacken the seasoning, 1-2 minutes (your salmon should only need 20 minutes tops on the grill unless it is REALLY thick- mine was about 1" thick at its thickest part).
Remove the salmon and allow it to rest.

Tortillas:
~| This recipe is adapted from https://www.gimmesomeoven.com/homemade-corn-tortillas |~
2 c corn flour (masa harina)
1-1/2 to 2 c hot water
Zest of 2 limes
1 T chili powder
1 t salt

Add your corn flour and sea salt to a large bowl and whisk to combine.
Add 1 c of hot water and begin stirring together. 
Dribble in additional water and stir until your dough comes together and forms a ball; it will have roughly the consistently of clay or play dough.
Cover the bowl with a damp paper towel and rest for 10 minutes.
Flatten your dough into a rough rectangle on your countertop about 1" thick.
Using a knife or dough cutter, cut into 9 equal pieces and cover with a damp table cloth.
Heat a cast iron skillet over mid-high heat.
Roll out your dough between pieces of parchment paper, or use a tortilla press to press them out.
Cook for 45-60 seconds per side in the skillet and remove from the heat. 

Pico de Gallo:
1 large onion, finely diced
10 cloves of garlic, minced
1 c cilantro, chopped
6 roma tomatoes, finely diced
Zest of 2 limes
2 T lime juice
Salt and pepper to taste

Build your tacos with romaine lettuce, topped with basmati rice (I made mine with coconut milk & water, zest of 2 limes, and 1/2 c chopped cilantro). Top that with the salmon and top that with pico de gallo. Serve with a lime wedge.
Important Links
(All links open in a new window)
Main Website
Subscribe on Patreon!
Livestream for the Cure
Join my Discord Community!
Podcast RSS Feed
Like my Facebook Page!
Follow me on Twitter!
Follow me on Instagram!
Join my Facebook Group!
Subscribe to my YouTube Channel!
Follow me on Twitch!
Listen on

Apple Podcasts
Goodpods
Spotify
Google Podcasts
Pandora
TuneIn Radio
iHeart Radio
Spreaker
PlayerFM
Stitcher
Podchaser
Guest Appearances
I was honored to sit down with Ashlee of the Rabbit Ears TV Podcast again to talk about all things Big Little Lies! Check it out at https://www.netflixnswill.com/rabbitears/2021/8/31/big-little-lies.
I had the amazing opportunity to sit down with Em of Verbal Diorama to talk about Anchorman: The Legend of Ron Burgandy and we had a blast. Please tune in at https://www.verbaldiorama.com/episode/anchorman-the-legend-of-ron-burgundy!
It was amazing to go back home again and sit down with Justin and LoySauce to review Spider-Man: No Way Home! Tune in to this very NSFW episode at https://epicfilmguys.podbean.com/e/efg-classic-nick-loysauce-return-for-spider-man-no-way-home-review/!
I headed back to Epic Film Guys again and joined Justin and the SAUCE for a review of Matt Reeves' The Batman! Check out the review at https://epicfilmguys.podbean.com/e/efg-classic-the-batman-review-special-edition/!
Credits
Intro "Midnight in Carmel" by Wendy Marcini. Licensed from Epidemic Sound. Check out her amazing music at https://open.spotify.com/artist/4CaTfk4pRkpA8A9gXamYg2.
Outro "The Climb" from Music for Makers. Sign up and get a royalty-free song delivered to your inbox every Monday at www.musicformakers.com!
Other music in this episode licensed from Epidemic Sound. Learn more and sign up for a free trial with access to thousands of songs at https://www.epidemicsound.com/.
Track Listing:
"When Worlds Collide," and "Within its Own Silent Shell" by Hampus Naeselius.
"Take me With" by Trevor Kowalski.
"Langholmen" by Gustav Lundgren.