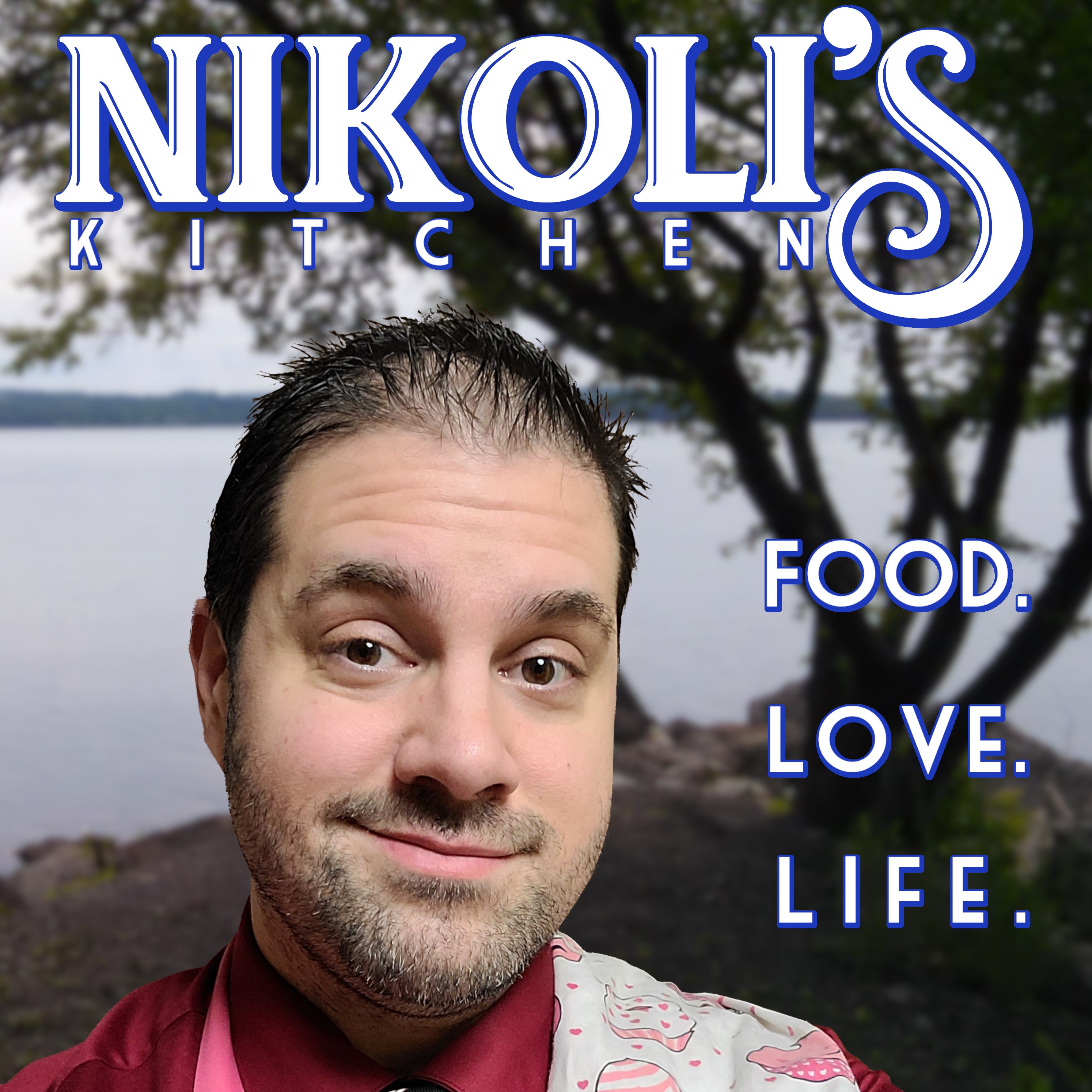 Welcome everyone! This show is all about my journey of positivity and scratch-made food, inside the kitchen and out. I'm not a chef, I'm just someone extremely passionate about food and trying to make the world a better place, one dish at a time. Every episode, I'll talk about what's happening in my world to try to help people, and I'll share a featured recipe for you to make at home. Thank you so much for listening, and thank you so much for coming on this journey with me.
Episodes
Thursday May 12, 2022
Thursday May 12, 2022
Hello everyone and welcome back to another episode of Nikoli's Kitchen, with massive apologies for the delay in getting this into your ears- prep for the Livestream for the Cure has overwhelmed me of late. This week on the show, I talk about letting go of anger and trying to work to make the world a better place, and then I talk about the wins (and failures) I experienced trying to make angel food cake from scratch. Pro tip: Buy a tube pan. Thank you all so much for listening!
The 6th Annual Livestream for the Cure will take place from May 19th - May 21st, as we work with content creators and podcast partners around the world to raise $20,000 for the Cancer Research Institute. This is our sixth year, and over the past five we've raised over $50,000. Please help us add to that total and help us spread the word by sharing promos for the event and information leading up to it. Learn more by visiting livestreamforthecure.com.
~| In this week's episode I talk about my failures to make the recipe adapted from Cake by Courtney. I believe that was because I still followed the baking instructions for the tube pan instead of instructions more meant for loaf pans. The first time I made angel food cake was from a recipe adapted from https://www.chocolatemoosey.com/angel-food-cake-in-a-loaf-pan/. For the recipe listed below I tried to adapt the instructions from this recipe for loaf pans, which will yield a much better result. |~
Featured Recipe for this Episode
~| This recipe is largely based on the recipe from Cake by Courtney found at https://cakebycourtney.com/angel-food-cake/. |~
1 c all-purpose flour &
2 T cornstarch OR
1 c + 2 T cake flour
1-3/4 c sugar
1/4 t salt
1-1/2 t cream of tartar
zest of 3 lemons OR 2 oranges
13 egg whites

Preheat oven to 325°.
Combine 1 c of your sugar, the flour & cornstarch, and salt in a bowl and whisk to combine.
Sift them through a mesh strainer four times.
Add your egg whites to a large bowl or the bowl of a stand mixer.
Whisk or beat the egg whites on mid-high. When they start to foam, add your cream of tartar and zest. 
Slowly add the remaining 3/4 c of sugar while the egg whites continue to beat.
Stop beating the egg whites when you reach soft peaks- they should form a peak as you pull the whisk/beaters out of the bowl, and then the peak will fall. 
Sift your dry ingredients into the egg whites in four batches, folding them in gently between batches (literally JUST until mixed).
Pour the batter into two ungreased 9x5" loaf pans and place them onto a large baking tray together.
Bake for 45 to 55 minutes at 325° or until brown and no longer sticky on top. Don't open the oven until you're sure it's done. Make sure your batter is set by shaking the pans slightly to see if they still have a liquidy jiggle in the middle. 
Remove from the oven and turn the loaf pans upside down and rest the handles on two things of equal height (I used cans of beans!) to allow air to cool the cake but so it doesn't collapse. Let it cool for an hour before removing from the pan to serve.

Lemon Icing
1 c powdered sugar
zest of 1 lemon
1 T lemon juice
1 T heavy cream
yellow food coloring (for extra yellow hue)

Combine all of the ingredients in a large bowl and whisk together vigorously until smooth. 
Important Links
(All links open in a new window)
Main Website
Subscribe on Patreon!
Livestream for the Cure
Join my Discord Community!
Podcast RSS Feed
Like my Facebook Page!
Follow me on Twitter!
Follow me on Instagram!
Join my Facebook Group!
Subscribe to my YouTube Channel!
Follow me on Twitch!
Listen on

Apple Podcasts
Goodpods
Spotify
Google Podcasts
Pandora
TuneIn Radio
iHeart Radio
Spreaker
PlayerFM
Stitcher
Podchaser
Guest Appearances
I was honored to sit down with Ashlee of the Rabbit Ears TV Podcast again to talk about all things Big Little Lies! Check it out at https://www.netflixnswill.com/rabbitears/2021/8/31/big-little-lies.
I had the amazing opportunity to sit down with Em of Verbal Diorama to talk about Anchorman: The Legend of Ron Burgandy and we had a blast. Please tune in at https://www.verbaldiorama.com/episode/anchorman-the-legend-of-ron-burgundy!
It was amazing to go back home again and sit down with Justin and LoySauce to review Spider-Man: No Way Home! Tune in to this very NSFW episode at https://epicfilmguys.podbean.com/e/efg-classic-nick-loysauce-return-for-spider-man-no-way-home-review/!
I headed back to Epic Film Guys again and joined Justin and the SAUCE for a review of Matt Reeves' The Batman! Check out the review at https://epicfilmguys.podbean.com/e/efg-classic-the-batman-review-special-edition/!
Credits
Intro "Midnight in Carmel" by Wendy Marcini. Licensed from Epidemic Sound. Check out her amazing music at https://open.spotify.com/artist/4CaTfk4pRkpA8A9gXamYg2.
"Almost in F" Kevin MacLeod (incompetech.com)
Licensed under Creative Commons: By Attribution 3.0 License
http://creativecommons.org/licenses/by/3.0/
Outro "The Climb" from Music for Makers. Sign up and get a royalty-free song delivered to your inbox every Monday at www.musicformakers.com!
Other music in this episode licensed from Epidemic Sound. Learn more and sign up for a free trial with access to thousands of songs at https://www.epidemicsound.com/.
Track Listing:
"The Way to the Sky" by Hampus Naeselius.