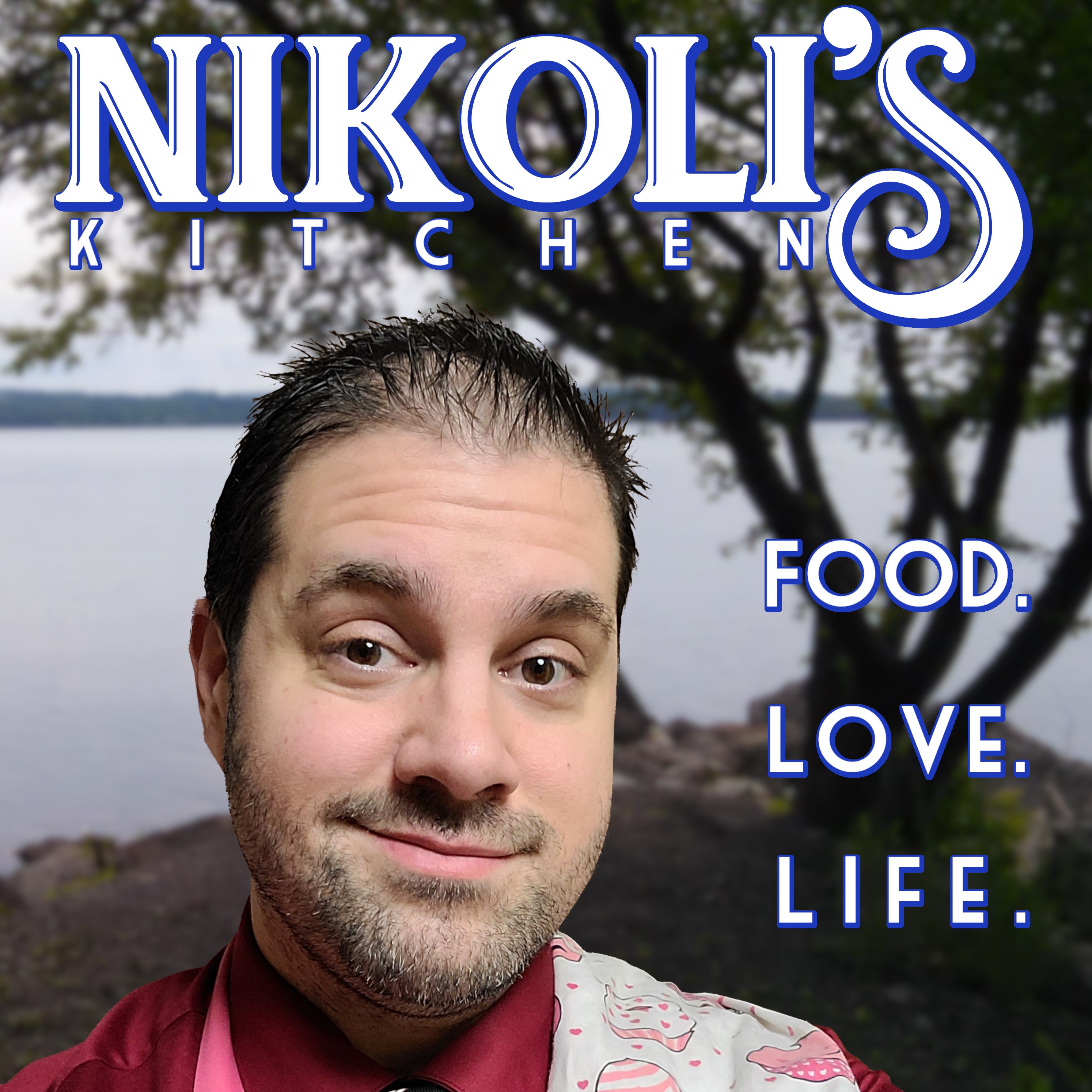 Welcome everyone! This show is all about my journey of positivity and scratch-made food, inside the kitchen and out. I'm not a chef, I'm just someone extremely passionate about food and trying to make the world a better place, one dish at a time. Every episode, I'll talk about what's happening in my world to try to help people, and I'll share a featured recipe for you to make at home. Thank you so much for listening, and thank you so much for coming on this journey with me.
Episodes
Monday Apr 18, 2022
Monday Apr 18, 2022
Hi everyone and welcome back to a brand new Nikoli's Kitchen! This week I'm giving a swing at something I've never done in the name of Gai Yang Chicken, which is Thai BBQ chicken typically spatchcocked and cooked over coals in the streets of Thailand. Also this week, I continue on last week's thoughts about celebrating all of the little wins in your life, and how to continue to believe in yourself even when you fail or are set back. Thank you so much for listening!
The 6th Annual Livestream for the Cure will take place from May 19th - May 21st, as we work with content creators and podcast partners around the world to raise $20,000 for the Cancer Research Institute. This is our sixth year, and over the past five we've raised over $50,000. Please help us add to that total and help us spread the word by sharing promos for the event and information leading up to it. Learn more by visiting livestreamforthecure.com.
All this month, Podchaser is donating 25 cents per review to the World Central Kitchen to help feed refugees from Ukraine. Please follow Nikoli's Kitchen on Podchaser at https://www.podchaser.com/users/nikoliskitchen and leave a 5-star review for the show and my episodes. Best of all, for every comment or review I reply to, the donation is doubled! Please help support my show and at the same time help feed people in need. 
Featured Recipe for this Episode
Gai Yang Marinade
1 whole chicken
2 T lemongrass, white part only, thinly sliced OR
1 T lemon zest & 1 T fresh ginger
1 t white pepper
1 t black pepper
10 cloves of garlic, roughly chopped
10 stalks of cilantro
1 shallot, roughly chopped
1 t coriander
2 T fish sauce
2 T palm sugar, roughly chopped
1 red chili, roughly chopped
2 T soy sauce
2 T dark soy sauce
1 t Turmeric
2 T vegetable oil
Nam Jim Jaew (dipping sauce)
1 T cilantro, finely chopped
1 T lime juice
1 T toasted sticky rice, finely ground
1 T red pepper, finely diced
1 T fish sauce
2 T tamarind paste
2 T palm sugar, finely chopped
1 T hot water
1 T scallions, finely diced
1 T shallots, finely diced
1 t dark soy sauce

~| Note: I broke down a whole chicken for this and this was more than enough marinade for two split breasts and two leg quarters, including enough to baste it on the grill several times. If you're making more than four pieces or so of chicken, you may want to double the marinade recipe. |~
Break down your chicken into split breasts and leg quarters. Save your wings, the spine, and any other parts for future chicken stock. 
Combine all of the marinade ingredients in a food processor and blend until combined.
Pour the marinade over your chicken and marinate for up to 48 hours.
Set up your charcoal grill so most of your coals are on half of it, creating a "warm" and a "cool" side where the chicken won't receive much direct heat on the "cool" side.
Grill the chicken skin-side up on the cool side for 35-45 minutes (depends on the size of your chicken). Baste your chicken every 10-15 minutes with the leftover marinade (I had enough to do this twice).
Flip the chicken over and place it skin-side down on the "warm" side for just a few minutes until the skin crisps up. Babysit the chicken at this phase- you don't want the skin to burn!
Remove your chicken and let it rest; while it does, prepare your dipping sauce.
For the Nam Jim Jaew, combine all of your ingredients into a bowl and stir. You want to make sure you get small cuts on everything so there aren't big chunks of anything.
Serve in a small dipping cup with your chicken.
My first attempt at this was served with basmati rice, made as directed replacing half of the water with coconut milk and adding 2 T cilantro and 2 T lime zest with some salt. 
Important Links
(All links open in a new window)
Main Website
Subscribe on Patreon!
Livestream for the Cure
Join my Discord Community!
Podcast RSS Feed
Like my Facebook Page!
Follow me on Twitter!
Follow me on Instagram!
Join my Facebook Group!
Subscribe to my YouTube Channel!
Follow me on Twitch!
Listen on

Apple Podcasts
Spotify
Google Podcasts
Pandora
TuneIn Radio
iHeart Radio
Spreaker
PlayerFM
Stitcher
Podchaser
Guest Appearances
I was honored to sit down with Ashlee of the Rabbit Ears TV Podcast again to talk about all things Big Little Lies! Check it out at https://www.netflixnswill.com/rabbitears/2021/8/31/big-little-lies.
I had the amazing opportunity to sit down with Em of Verbal Diorama to talk about Anchorman: The Legend of Ron Burgandy and we had a blast. Please tune in at https://www.verbaldiorama.com/episode/anchorman-the-legend-of-ron-burgundy!
It was amazing to go back home again and sit down with Justin and LoySauce to review Spider-Man: No Way Home! Tune in to this very NSFW episode at https://epicfilmguys.podbean.com/e/efg-classic-nick-loysauce-return-for-spider-man-no-way-home-review/!
I headed back to Epic Film Guys again and joined Justin and the SAUCE for a review of Matt Reeves' The Batman! Check out the review at https://epicfilmguys.podbean.com/e/efg-classic-the-batman-review-special-edition/!
Credits
Intro "Midnight in Carmel" by Wendy Marcini. Licensed from Epidemic Sound. Check out her amazing music at https://open.spotify.com/artist/4CaTfk4pRkpA8A9gXamYg2.
Outro "The Climb" from Music for Makers. Sign up and get a royalty-free song delivered to your inbox every Monday at www.musicformakers.com!
Other music in this episode licensed from Epidemic Sound. Learn more and sign up for a free trial with access to thousands of songs at https://www.epidemicsound.com/.
Track Listing:
"The Sanctuary Within," "The Dust Settles," "Never Look Back," "To Witness in Silence," and "Returning Memories" by Erasmus Talbot.