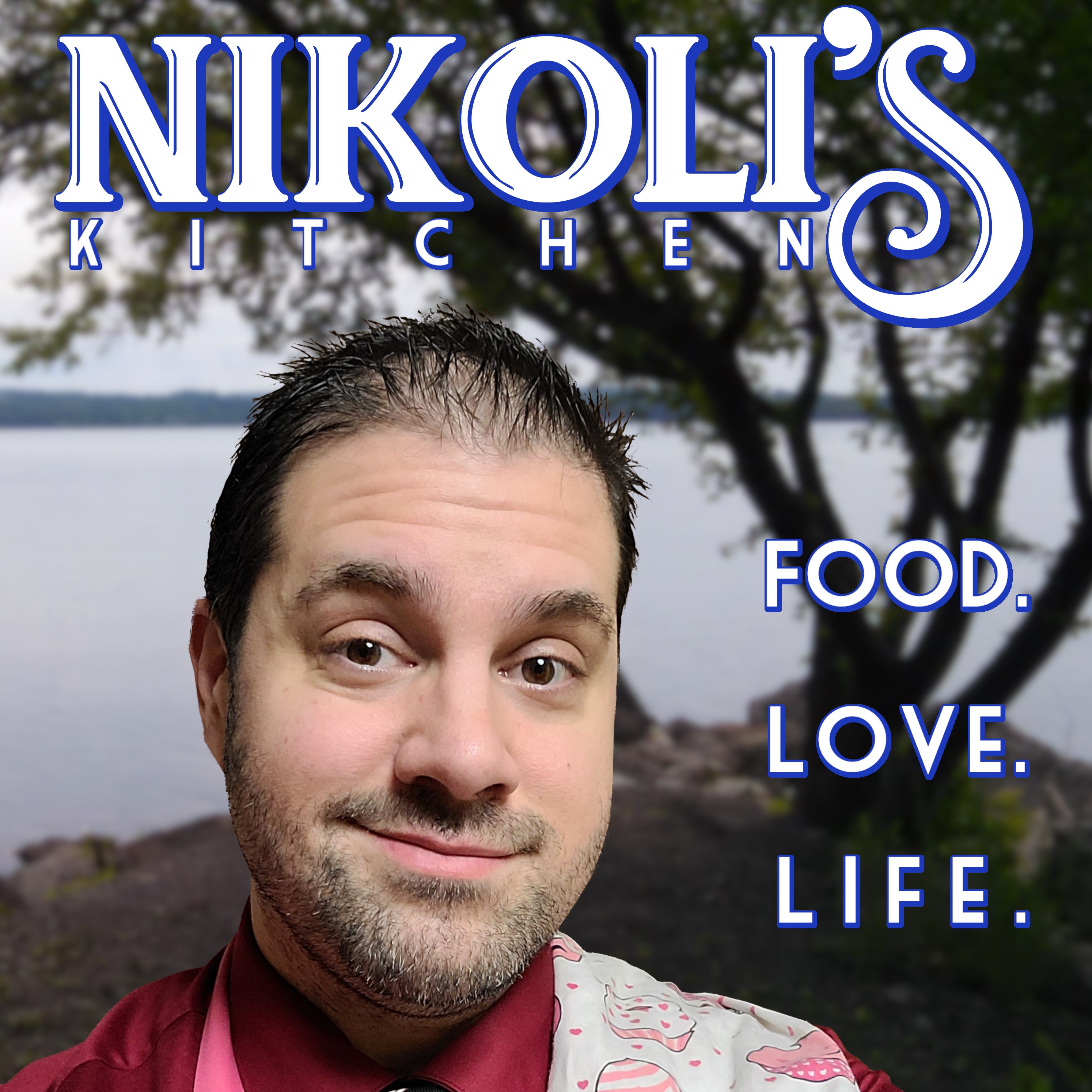 Welcome everyone! This show is all about my journey of positivity and scratch-made food, inside the kitchen and out. I'm not a chef, I'm just someone extremely passionate about food and trying to make the world a better place, one dish at a time. Every episode, I'll talk about what's happening in my world to try to help people, and I'll share a featured recipe for you to make at home. Thank you so much for listening, and thank you so much for coming on this journey with me.
Episodes
Tuesday Apr 12, 2022
Tuesday Apr 12, 2022
Hello everyone and welcome back to another episode of Nikoli's Kitchen! This week with episode 50 rolling around, I wanted to take the opportunity to celebrate by going back to the very first episode of the show and taking another look at the brownies I made. Instead of making them with red wine syrup and ganache, I made them with an Imperial stout and caramel! The results didn't turn out exactly how I wanted, but they still had great flavor.
Also this week, I answer your questions and continue on the thread from last week's positivity segment, talking about self-awareness and celebrating the little things in life. Thank you all so much for listening and for your amazing support that has taken me to 50 episodes. Here's to the next 50 and beyond! Thank you so much for coming on this journey with me.
The 6th Annual Livestream for the Cure will take place from May 19th - May 21st, as we work with content creators and podcast partners around the world to raise $20,000 for the Cancer Research Institute. This is our sixth year, and over the past five we've raised over $50,000. Please help us add to that total and help us spread the word by sharing promos for the event and information leading up to it. Learn more by visiting livestreamforthecure.com.
All this month, Podchaser is donating 25 cents per review to the World Central Kitchen to help feed refugees from Ukraine. Please follow Nikoli's Kitchen on Podchaser at https://www.podchaser.com/users/nikoliskitchen and leave a 5-star review for the show and my episodes. Best of all, for every comment or review I reply to, the donation is doubled! Please help support my show and at the same time help feed people in need. 
Featured Recipe for this Episode
Brownies:
1 12-oz bottle of Imperial Stout
1/3 cup white sugar
2 sticks butter
10 oz chocolate (good quality chocolate/baking chocolate, get it as dark or semi-sweet as you like, minding the sugar)
2/3 cup dark brown sugar
2 t vanilla
5 large eggs
3/4 c flour
1 t salt

Imperial Stout Caramel:
1 12-oz bottle of Imperial Stout
1 c white sugar
6 T unsalted butter
1/2 c heavy cream
1 t salt
~| Original caramel recipe is from https://sallysbakingaddiction.com/homemade-salted-caramel-recipe/ |~

Brownie Directions:
Preheat oven to 350°.
Add beer and white sugar to a large saucepan and cook, over medium heat, until the liquid is mostly gone- you'll notice a distinctive change in the liquid state from a simmer to a foaming or frothing as the liquid evaporates. Stir this and don't let it burn. 
Remove from heat and let it cool. 
Add two sticks of butter (1 cup) and the chocolate to a large glass or metal bowl.
Fill a saucepan with 2 inches of water.
Place bowl over top of the saucepan and turn it to high; the steam from the boiling water will melt the chocolate and butter. Stir frequently to combine.
Remove from heat once melted and allow to cool (it should just be warm to the touch, then you're ready). Once this is cooled and your beer syrup is cooled, add it into your chocolate mix.
Add brown sugar, salt, and vanilla and stir to combine. 
Add one egg at a time, stirring until it is incorporated. Note- if you want to whisk these in quite a bit you're going to add a lot of air that will make your brownies more on the cake-y side. If this is something you like, by all means, whisk each egg as it goes in.
Sift 3/4 c flour into the bowl and stir together just until it is incorporated. 
Grease or spray a 9x13" or an 8x8" baking dish. Your brownies will obviously come out thicker in the 8x8" pan and not being as thin you won't get that kind of "crunchy" brownie edge like you do with a thinner 9x13" brownie. 
Spread batter out into the baking dish and bake for 25-30 minutes (9x13") or 30-40 minutes (8x8"). This depends largely on what consistency you want. To get them rich and fudge-y in the middle you want a fork/toothpick inserted into the center to come out with brownie on it, but it shouldn't be liquidy or drip off it. 
Remove and allow to cool.

Caramel Directions:
Add your beer and sugar to a large saucepan and cook over medium heat until the liquid is mostly gone (you can follow the same process as for the brownies- you can also make both at the same time in the same pot and then split it into the brownies and caramel). 
Once your beer syrup is reduced, immediately stir in the butter until melted and combined.
After the butter has melted and combined with your beer syrup, cook for 1 minute without stirring (I covered it during this stage as well to wash down the sides of the pot, so as to avoid crystallization). 
Very slowly stir in the heavy cream- the mixture will rapidly bubble when added. 
After all the heavy cream has been added, stop stirring and allow to boil for 1 minute (I also covered it during this stage).
Remove from the heat and add the salt, stirring to combine.
Allow to cool before use. 
Important Links
(All links open in a new window)
Main Website
Subscribe on Patreon!
Livestream for the Cure
Join my Discord Community!
Podcast RSS Feed
Like my Facebook Page!
Follow me on Twitter!
Follow me on Instagram!
Join my Facebook Group!
Subscribe to my YouTube Channel!
Follow me on Twitch!
Listen on

Apple Podcasts
Spotify
Google Podcasts
Pandora
TuneIn Radio
iHeart Radio
Spreaker
PlayerFM
Stitcher
Podchaser
Guest Appearances
I was honored to sit down with Ashlee of the Rabbit Ears TV Podcast again to talk about all things Big Little Lies! Check it out at https://www.netflixnswill.com/rabbitears/2021/8/31/big-little-lies.
I had the amazing opportunity to sit down with Em of Verbal Diorama to talk about Anchorman: The Legend of Ron Burgandy and we had a blast. Please tune in at https://www.verbaldiorama.com/episode/anchorman-the-legend-of-ron-burgundy!
It was amazing to go back home again and sit down with Justin and LoySauce to review Spider-Man: No Way Home! Tune in to this very NSFW episode at https://epicfilmguys.podbean.com/e/efg-classic-nick-loysauce-return-for-spider-man-no-way-home-review/!
I headed back to Epic Film Guys again and joined Justin and the SAUCE for a review of Matt Reeves' The Batman! Check out the review at https://epicfilmguys.podbean.com/e/efg-classic-the-batman-review-special-edition/!
Credits
Intro "Midnight in Carmel" by Wendy Marcini. Licensed from Epidemic Sound. Check out her amazing music at https://open.spotify.com/artist/4CaTfk4pRkpA8A9gXamYg2.
"Deep Relaxation" Kevin MacLeod (incompetech.com)
Licensed under Creative Commons: By Attribution 3.0 License
http://creativecommons.org/licenses/by/3.0/
Outro "The Climb" from Music for Makers. Sign up and get a royalty-free song delivered to your inbox every Monday at www.musicformakers.com!
Other music in this episode licensed from Epidemic Sound. Learn more and sign up for a free trial with access to thousands of songs at https://www.epidemicsound.com/.
Track Listing:
"At Dawn," "Cessura," "Gray," and "Progress" by Ever So Blue.
"Leverage" by Infinity Ripple.