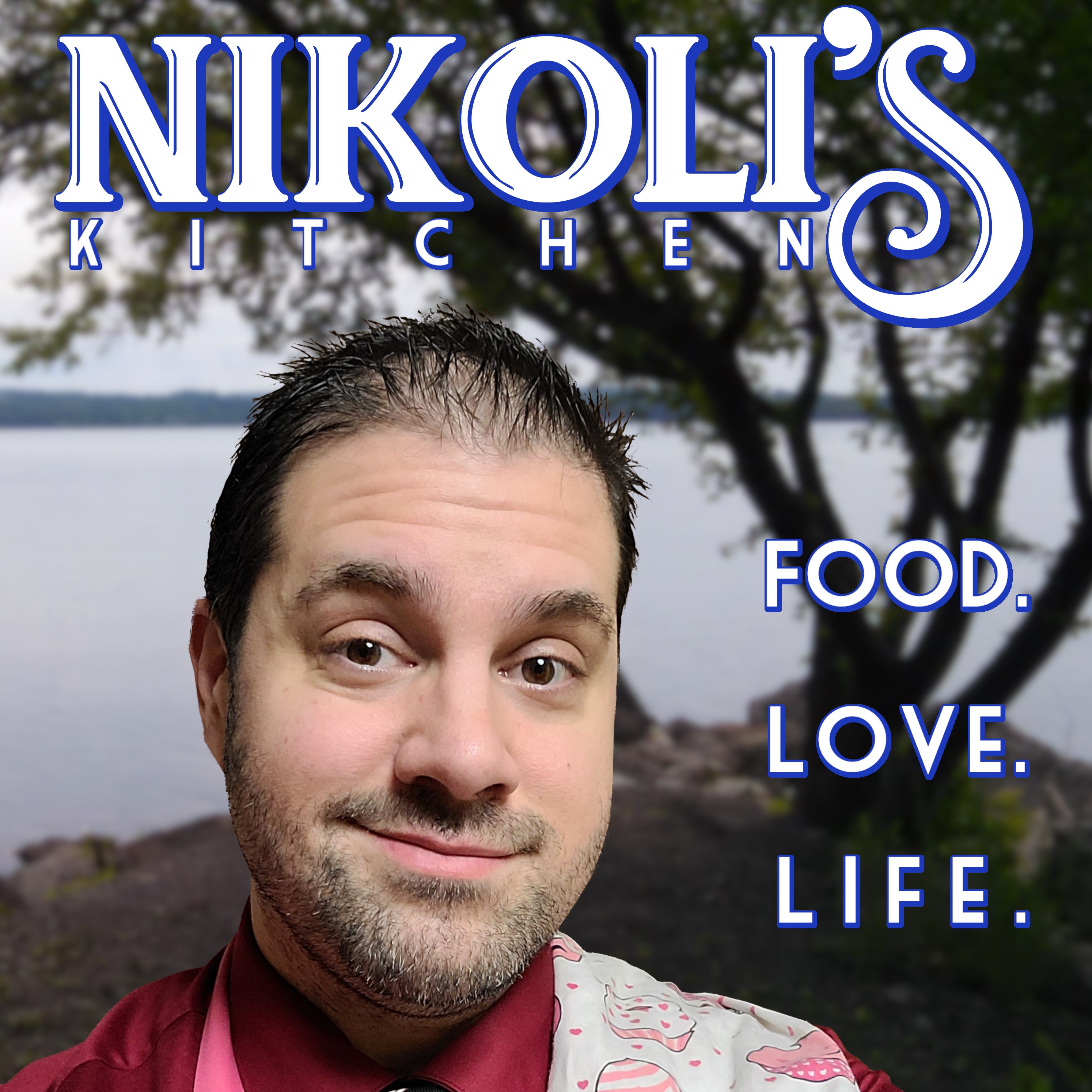 Welcome everyone! This show is all about my journey of positivity and scratch-made food, inside the kitchen and out. I'm not a chef, I'm just someone extremely passionate about food and trying to make the world a better place, one dish at a time. Every episode, I'll talk about what's happening in my world to try to help people, and I'll share a featured recipe for you to make at home. Thank you so much for listening, and thank you so much for coming on this journey with me.
Episodes
Monday Apr 04, 2022
Monday Apr 04, 2022
Hello everyone and welcome back to another brand new episode of Nikoli's Kitchen! In this week's episode I talk about making changes- and how we sometimes convince ourselves that we've made a change just by talking about it, when we really need to put those words into actions. On the back half of the show, I talk about making spinach lasagna because it randomly popped up as a basket ingredient on Chopped! Thank you all so much for listening!
The 6th Annual Livestream for the Cure will take place from May 19th - May 21st, as we work with content creators and podcast partners around the world to raise $20,000 for the Cancer Research Institute. This is our sixth year, and over the past five we've raised over $50,000. Please help us add to that total and help us spread the word by sharing promos for the event and information leading up to it. Learn more by visiting livestreamforthecure.com.
All this month, Podchaser is donating 25 cents per review to the World Central Kitchen to help feed refugees from Ukraine. Please follow Nikoli's Kitchen on Podchaser at https://www.podchaser.com/users/nikoliskitchen and leave a 5-star review for the show and my episodes. Best of all, for every comment or review I reply to, the donation is doubled! Please help support my show and at the same time help feed people in need. 
Featured Recipe for this Episode
4 c shredded mozzarella cheese
1 c freshly shredded parmesan cheese
32 oz ricotta cheese (whole milk)
Zest of 3 lemons
2 c baby spinach
2 c fresh basil
2 eggs
1 t salt
1 t cracked black pepper
4 T clarified butter
4 T all-purpose flour
2 c whole milk
1 c sweet onions, finely diced
20 cloves of garlic, crushed
1 t Salt
1 t white pepper
Allspice, nutmeg, and paprika to taste
12 homemade pasta sheets, 9" x 5"
1 c freshly-shredded parmesan cheese
1 c fresh mozzarella cheese, thinly sliced

Prepare your filling by combining the ricotta cheese, lemon zest, and eggs in a large bowl. Whip them together with an electric mixer until smooth.
Add your 4 c shredded mozzarella, 1 c parmesan, baby spinach, fresh basil, salt, and pepper into the bowl. Mix until well-combined and place in the fridge until it's time to build your lasagna.
Melt your clarified butter in a large saucepan over medium heat.
Add your diced onion and cook for 7-10 minutes or until mostly softened. Add some salt to help sweat them out. I let them cook until they had just a little bite left to them.
Add your garlic and stir well. Cook for an additional minute to perfume.
Add your flour and stir well; this will turn into your roux. Continue stirring until well-combined and cook for a minute or two to cook out the taste of the flour.
Add your whole milk and seasonings/spices. Bring back to a simmer; this will thicken into a béchamel quite easily. 
Add additional seasonings to taste.
Preheat your oven to 350°.
Spread a layer of béchamel over the bottom of a 9x13" baking dish.
Layer your fresh pasta over the béchamel. I did this straight from my pasta roller right into the pan; mine can only do sheets between 4" or 5" wide, so I did three strips each layer about 9" long, the same as the width of the pan.
Layer 1/3 of your spinach ricotta mixture over the pasta.
Add another layer of béchamel.
Repeat this another 2x with layers of your fresh pasta and the ricotta mixture.
Top with a final layer of pasta.
Pour the remaining béchamel over the top of your final pasta layer.
Top the lasagna with the freshly-shredded parmesan and the mozzarella. Add any additional seasonings atop this.
Bake the lasagna covered for 40 minutes. 
Remove the cover and bake uncovered for another 10 minutes.
Turn the broiler on high and just let the cheese brown on top. 
Remove and rest for 10-15 minutes before cutting into it.
Cut and serve!
Important Links
(All links open in a new window)
Main Website
Subscribe on Patreon!
Livestream for the Cure
Join my Discord Community!
Podcast RSS Feed
Like my Facebook Page!
Follow me on Twitter!
Follow me on Instagram!
Join my Facebook Group!
Subscribe to my YouTube Channel!
Follow me on Twitch!
Listen on

Apple Podcasts
Spotify
Google Podcasts
Pandora
TuneIn Radio
iHeart Radio
Spreaker
PlayerFM
Stitcher
Podchaser
Guest Appearances
I was honored to sit down with Ashlee of the Rabbit Ears TV Podcast again to talk about all things Big Little Lies! Check it out at https://www.netflixnswill.com/rabbitears/2021/8/31/big-little-lies.
I had the amazing opportunity to sit down with Em of Verbal Diorama to talk about Anchorman: The Legend of Ron Burgandy and we had a blast. Please tune in at https://www.verbaldiorama.com/episode/anchorman-the-legend-of-ron-burgundy!
It was amazing to go back home again and sit down with Justin and LoySauce to review Spider-Man: No Way Home! Tune in to this very NSFW episode at https://epicfilmguys.podbean.com/e/efg-classic-nick-loysauce-return-for-spider-man-no-way-home-review/!
I headed back to Epic Film Guys again and joined Justin and the SAUCE for a review of Matt Reeves' The Batman! Check out the review at https://epicfilmguys.podbean.com/e/efg-classic-the-batman-review-special-edition/!
Credits
Intro "Midnight in Carmel" by Wendy Marcini. Licensed from Epidemic Sound. Check out her amazing music at https://open.spotify.com/artist/4CaTfk4pRkpA8A9gXamYg2.
"Concentration" Kevin MacLeod (incompetech.com)
Licensed under Creative Commons: By Attribution 3.0 License
http://creativecommons.org/licenses/by/3.0/
Outro "The Climb" from Music for Makers. Sign up and get a royalty-free song delivered to your inbox every Monday at www.musicformakers.com!
Other music in this episode licensed from Epidemic Sound. Learn more and sign up for a free trial with access to thousands of songs at https://www.epidemicsound.com/.
Track Listing:
"Live a Little" by Francis Wells.