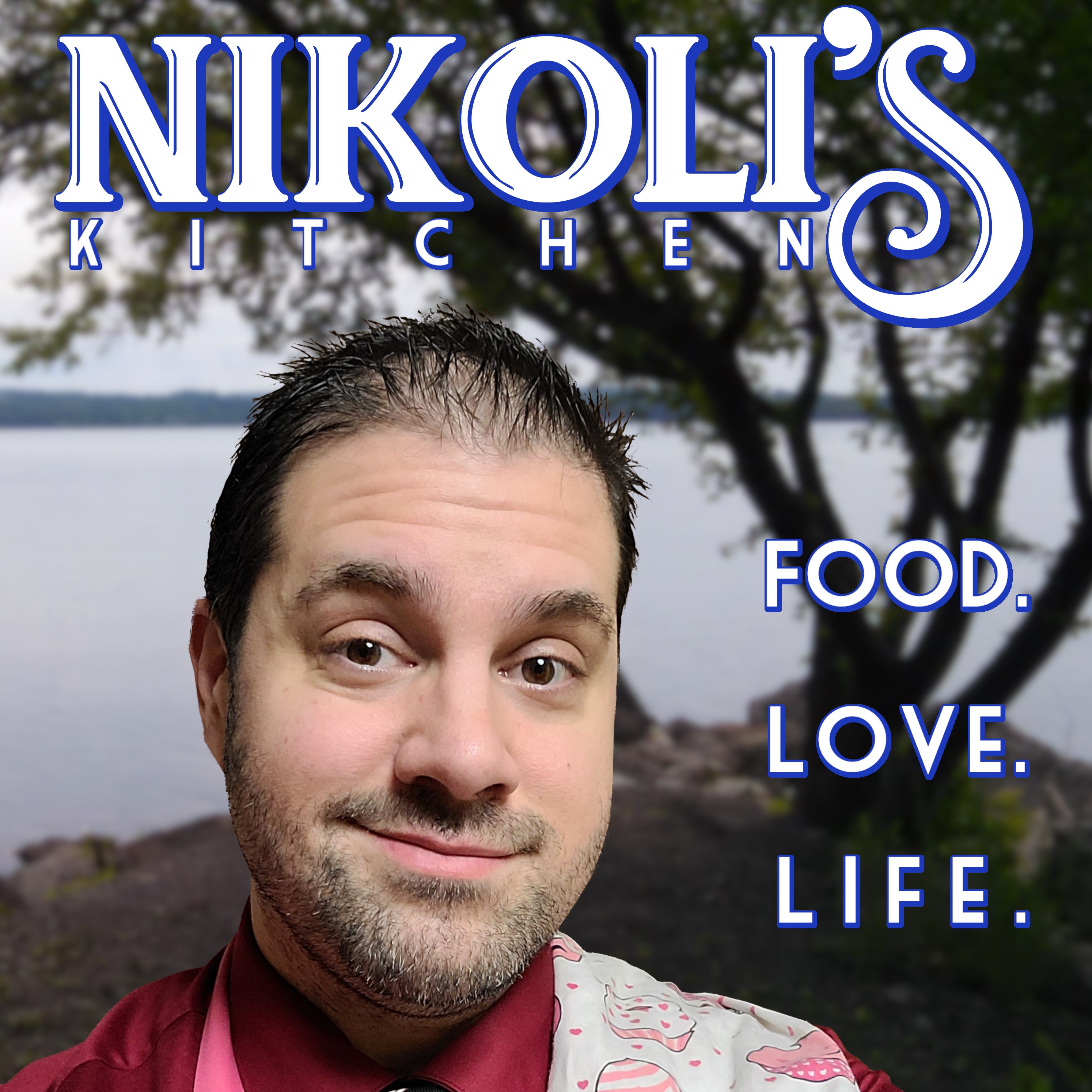 Welcome everyone! This show is all about my journey of positivity and scratch-made food, inside the kitchen and out. I'm not a chef, I'm just someone extremely passionate about food and trying to make the world a better place, one dish at a time. Every episode, I'll talk about what's happening in my world to try to help people, and I'll share a featured recipe for you to make at home. Thank you so much for listening, and thank you so much for coming on this journey with me.
Episodes
Monday Mar 14, 2022
Monday Mar 14, 2022
Hello everyone and welcome back to another episode of Nikoli's Kitchen! In this week's episode, I share some life advice from a young woman who died at the age of 27 from cancer, and talk about my experience working with 18-month-old phyllo dough. Note: for the recipe breakdown below I included options to omit the phyllo dough and use a graham cracker crust instead. Thank you all so much for listening!
The post I read in this episode was made by a young woman named Holly Butcher, who died in January 2018 at just 27 years old from a rare form of cancer. The version her letter is edited for this episode, but you can read it in its entirety here.
The phyllo flatbread with tomato and ricotta mentioned in this episode is based on this recipe from The Spruce Eats.
The 6th Annual Livestream for the Cure will take place from May 19th - May 21st, as we work with content creators and podcast partners around the world to raise $20,000 for the Cancer Research Institute. This is our sixth year, and over the past five we've raised over $50,000. Please help us add to that total and help us spread the word by sharing promos for the event and information leading up to it. Learn more by visiting livestreamforthecure.com.
Featured Recipe for this Episode
Graham Cracker Crumble-
~| Note that you can either use this as a topping for the key lime pies in the phyllo cups, or ditch the phyllo cups altogether and make a graham cracker crust with this instead. If you go the latter route, prepare it as directed and make sure you press the crust into your muffin tin and bake for the amount of time noted below before topping it with key lime filling. Then, just continue as normal. I'll also note I'd either make sure to use paper liners for your muffin tin or use silicone cupcake molds. |~ 
2 c graham crackers, crushed
2 T brown sugar
1/2 t nutmeg
1/2 t allspice
1/4 t cinnamon
1/2 t vanilla
Finishing salt
4 T butter, melted

Preheat the oven to 350°.
Place your graham crackers in a large ziploc bag and crush them with a rolling pin until they are mostly reduced to crumbs (go to your desired texture here- I like a couple chunks leftover in my crumble).
Pour over your melted butter and add brown sugar, nutmeg, allspice, cinnamon, and vanilla. Stir to combine.
Place a sheet of parchment paper over a baking tray.
Spread your crumble in an even layer and bake at 350° for 8-10 minutes.
Remove from the oven and add a LIGHT sprinkle of finishing salt (not the "Nick" amount of way too much- a pinch or two'll do ya).
Set aside to cool.

Mini Phyllo Cups-
5 sheets frozen phyllo dough, thawed
1/3 c melted butter

Preheat the oven to 375°.
Unfold your phyllo dough sheets. Transfer them to a baking tray large enough to fit them, and keep them covered with wax paper, then a wet towel, to keep them from drying out (the wax paper is to keep them from getting wet and sealing them, the wet towel is just for weight to not allow air in- do NOT put the wet towel on the phyllo dough).
Place a sheet on a large cutting board or work surface.
Brush the sheet with a thin layer of unsalted butter.
Add another sheet on top and repeat this process until you've layered five sheets of phyllo dough.
Cut the dough into twelve equally-sized squares. 
Using a brush or your finger, take a muffin pan and coat the inside of the muffin cups with a little butter.
Press the phyllo dough squares into your muffin cups in the center to make sure you've got enough dough going up the sides. I trimmed the edges that popped up out of the cups because I didn't want them to burn.
Using a toothpick, poke a hole in the center to allow steam to escape.
Bake at 375° for 8-10 minutes and remove, and set aside. 

Key Lime Pie Filling-
1/2 c key lime juice
Zest of 8 key limes & 2 limes
14 oz can sweetened condensed milk
1/4 c heavy cream
4 egg yolks
2 T softened 1/3 fat cream cheese

Bump your oven down to 350°.
Whisk together egg yolks, sweetened condensed milk, cream cheese, and heavy cream until smooth.
Add key lime juice and half of the zest and stir to combine.
Pour into phyllo cups and bake at 350° for 12-15 minutes, or until custard is set. 
Remove from the oven and top with your graham cracker crumble (if desired), the remaining zest, and your meringue.

Meringue-
4 egg whites
4 T sugar
1 t cream of tartar
Dash of salt

Beat egg whites on mid-high until soft peaks form.
Add combo of sugar, tartar, and salt (I deliberately used less sugar in the meringue knowing the filling would also be sweet; adjust this to your tastes).
Spoon onto hot phyllo cups, covering every gap to the edge of the dough.
Bake 10-12 minutes or until meringue is browned.

Yield: 12 mini phyllo key lime pies.
Calories/Serving: 340 calories per pie with graham crackers and phyllo.
240 calories per pie if you omit the graham cracker crumble.
275 calories per pie if you replace the phyllo with a graham cracker crust as prepared here.
Important Links
(All links open in a new window)
Main Website
Subscribe on Patreon!
Livestream for the Cure
Join my Discord Community!
Podcast RSS Feed
Like my Facebook Page!
Follow me on Twitter!
Follow me on Instagram!
Join my Facebook Group!
Subscribe to my YouTube Channel!
Follow me on Twitch!
Listen on

Apple Podcasts
Spotify
Google Podcasts
Pandora
TuneIn Radio
iHeart Radio
Spreaker
PlayerFM
Stitcher
Podchaser
Guest Appearances
I was honored to sit down with Ashlee of the Rabbit Ears TV Podcast again to talk about all things Big Little Lies! Check it out at https://www.netflixnswill.com/rabbitears/2021/8/31/big-little-lies.
I had the amazing opportunity to sit down with Em of Verbal Diorama to talk about Anchorman: The Legend of Ron Burgandy and we had a blast. Please tune in at https://www.verbaldiorama.com/episode/anchorman-the-legend-of-ron-burgundy!
It was amazing to go back home again and sit down with Justin and LoySauce to review Spider-Man: No Way Home! Tune in to this very NSFW episode at https://epicfilmguys.podbean.com/e/efg-classic-nick-loysauce-return-for-spider-man-no-way-home-review/!
I headed back to Epic Film Guys again and joined Justin and the SAUCE for a review of Matt Reeves' The Batman! Check out the review at https://epicfilmguys.podbean.com/e/efg-classic-the-batman-review-special-edition/!
Credits
Intro "Midnight in Carmel" by Wendy Marcini. Licensed from Epidemic Sound. Check out her amazing music at https://open.spotify.com/artist/4CaTfk4pRkpA8A9gXamYg2.
Outro "The Climb" from Music for Makers. Sign up and get a royalty-free song delivered to your inbox every Monday at www.musicformakers.com!
Other music in this episode licensed from Epidemic Sound. Learn more and sign up for a free trial with access to thousands of songs at https://www.epidemicsound.com/.
Track Listing: 
"Good Night Waltz" by Wendy Marcini.
"Godspeed Nebulae" by Rand Aldo.
"The Way to the Sky" by Hampus Naeselius.
"True Projection," and "Motionless" by Alan Ellis.