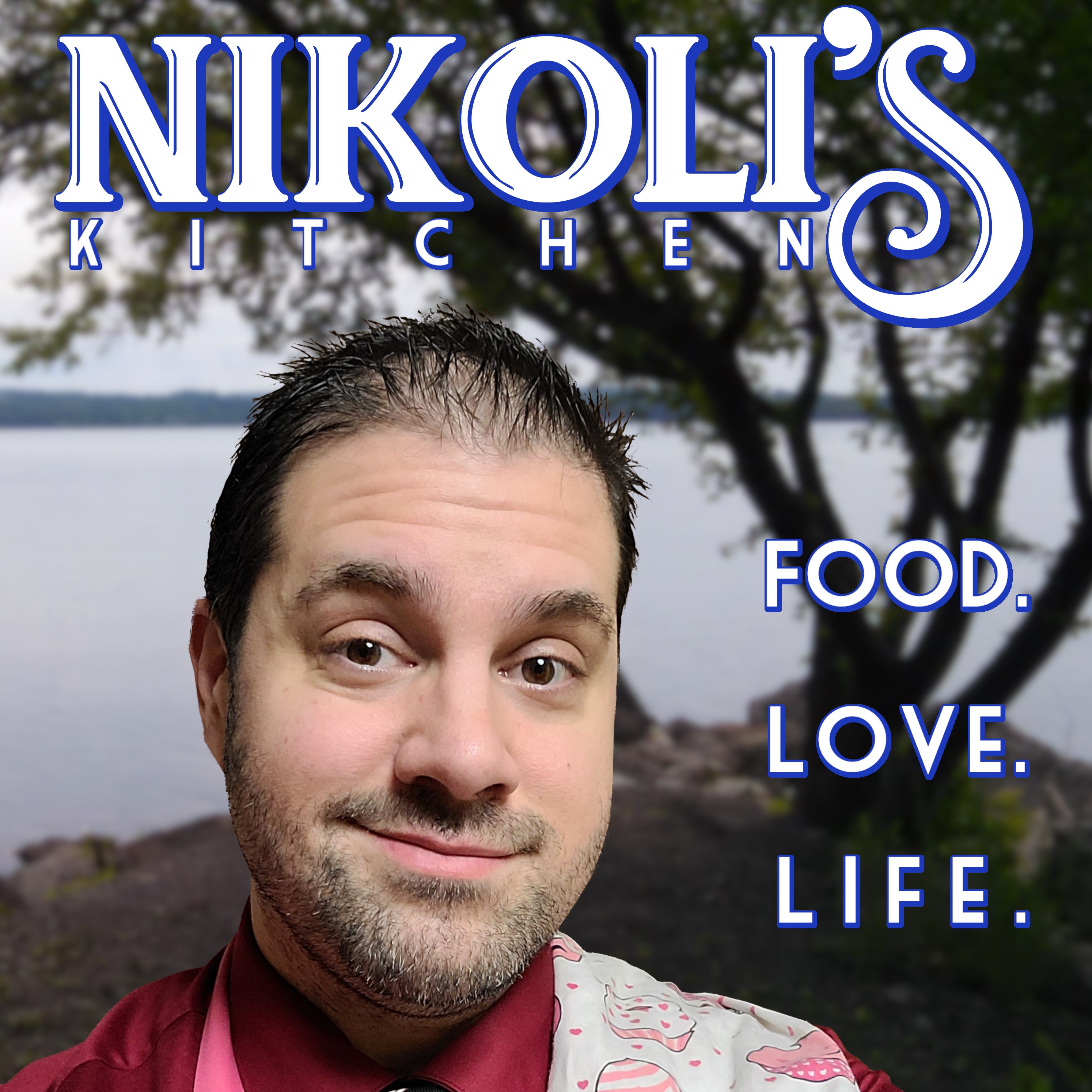 Welcome everyone! This show is all about my journey of positivity and scratch-made food, inside the kitchen and out. I'm not a chef, I'm just someone extremely passionate about food and trying to make the world a better place, one dish at a time. Every episode, I'll talk about what's happening in my world to try to help people, and I'll share a featured recipe for you to make at home. Thank you so much for listening, and thank you so much for coming on this journey with me.
Episodes
Monday Feb 28, 2022
Monday Feb 28, 2022
Hello everyone and welcome back to another episode of Nikoli's Kitchen! This week on the show, I talk about struggling to manage my bloated schedule and knowing that it's okay to take some time for yourself once in awhile. In the back half of the show we're talking about smoked chicken noodle soup! I made this live on stream at https://twitch.tv/nikoliskitchen and it turned out so amazing I had to talk about it here on the show. Thank you all so much for listening!
Featured Recipe for this Episode
8 chicken thighs, bone-in and skin on
3 leeks, trimmed and washed
Olive oil
Salt
Pepper
Soup base:
1 c baby carrots, halved
1 c celery, roughly chopped
1 red onion, sliced
Red pepper top(s)
1/2 bulb of garlic (8 cloves or so), crushed
Fresh basil stems
Fresh sage stems
14 c water
2 c dry white wine
Soup:
1 red onion, chopped
1 c red pepper, chopped
1 c celery, chopped 
1 c carrot, chopped
1/2 bulb of garlic (8 cloves or so), minced
1 c fresh basil
1/4 c fresh sage, chopped
2 c baby spinach
2 t paprika
Salt & pepper to taste
4 c chicken stock
2 portions homemade pasta
My homemade pasta recipe can be found here. Note the changes mentioned in the show; use only water and use 2 eggs and 2 egg yolks.

Place your olive oil, salt, and pepper in a large bowl.
Trim your leeks- remove the long green leaves and the bulb on the end.
Slice the leeks lengthwise down to the middle so you can fan apart the individual layers.
Rinse the leeks well. 
Brush your olive oil, salt, and pepper mixture over the leeks.
Place your chicken thighs in the bowl and toss until well-coated.
Heat a charcoal grill up to high heat.
Grill the thighs and the leeks. The more smoke you can trap in the grill to flavor them, the better.
Remove the leeks when they are finished. 
Grill the thighs for 20-25 minutes or until they are close to done or done- if they didn't finish all the way on the grill it doesn't matter as you'll be finishing the meat in the soup.
Remove the thighs and let them rest.
Meanwhile, prepare your soup base and your soup ingredients- I used everything in the soup base that was trimmed from the soup ingredients themselves, such as the pepper top(s) and stems from the herbs.
Cut the leeks into four pieces and add them to a large stockpot. 
Add the remainder of your ingredients for the soup base.
Once the thighs have rested, de-skin and de-bone them, reserving the meat for later (you can shred up the meat as you do this as well to your desired size).
Add your water and wine and boil this at high heat for 1-1/2 to 2 hours, or until the liquid is reduced to about 4 cups total.
Strain the soup base into a large bowl and discard the bones, et al.
Return your soup base back to the stockpot.
Add all of the soup ingredients but for the pasta and chicken.
Bring to a boil and allow this to cook for 15-20 minutes or until the vegetables are starting to soften (they should still be a little toothsome, but not completely).
While you're doing this, cook your homemade pasta in its own water and strain. You just need to cook it to al dente so it can finish in the soup- don't cook it totally in the soup or you'll add a lot of flour and starch.
Add your shredded chicken at this point and cook for another 5 minutes, just to infuse the smoke and fat flavors throughout the soup.
Add your homemade pasta and cook until it is finished.

Servings: 12 cups.
Calories/Serving: 275 per cup, give or take. I can only approximate the calories for the stock.
Important Links
(All links open in a new window)
Main Website
Subscribe on Patreon!
Livestream for the Cure
Join my Discord Community!
Podcast RSS Feed
Like my Facebook Page!
Follow me on Twitter!
Follow me on Instagram!
Join my Facebook Group!
Subscribe to my YouTube Channel!
Follow me on Twitch!
Listen on

Apple Podcasts
Spotify
Google Podcasts
Pandora
TuneIn Radio
iHeart Radio
Spreaker
PlayerFM
Stitcher
Podchaser
Guest Appearances
I was honored to sit down with Ashlee of the Rabbit Ears TV Podcast again to talk about all things Big Little Lies! Check it out at https://www.netflixnswill.com/rabbitears/2021/8/31/big-little-lies.
I had the amazing opportunity to sit down with Em of Verbal Diorama to talk about Anchorman: The Legend of Ron Burgandy and we had a blast. Please tune in at https://www.verbaldiorama.com/episode/anchorman-the-legend-of-ron-burgundy!
It was amazing to go back home again and sit down with Justin and LoySauce to review Spider-Man: No Way Home! Tune in to this very NSFW episode at https://epicfilmguys.podbean.com/e/efg-classic-nick-loysauce-return-for-spider-man-no-way-home-review/!
Credits
Intro "Midnight in Carmel" by Wendy Marcini. Licensed from Epidemic Sound. Check out her amazing music at https://open.spotify.com/artist/4CaTfk4pRkpA8A9gXamYg2.
Outro "The Climb" from Music for Makers. Sign up and get a royalty-free song delivered to your inbox every Monday at www.musicformakers.com!
Other music in this episode licensed from Epidemic Sound. Learn more and sign up for a free trial with access to thousands of songs at https://www.epidemicsound.com/.
Track Listing: 
"A Most Dignified Betrayal" - Trevor Kowalski.
"Just Get it Done," and "Days of Hope" by Hampus Naeselius.
"True Projection," and "Motionless" by Alan Ellis.